Moonee Valley's Carlton Connection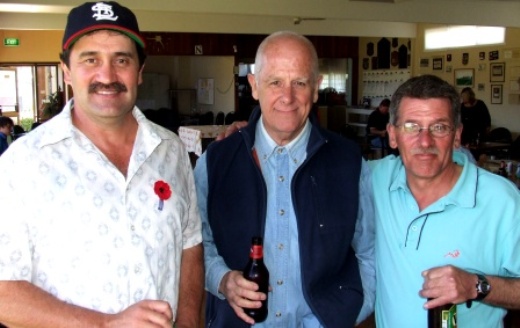 Our "Carlton Connection" was well to the fore at the Moonee Valley Cricket Club Melbourne Cup day function.

Three key administrators from the Carlton Cricket Club were at the function, and enjoyed themselves among the 100-odd players, family and supporters.
It's a bonus for our Club to have these connections wth a major Premier club, and ensures that any of our young guns who do well have the opportunity to further themselves.
Left to right: Tony Gleeson, Gary Schickerling and Phil "Gerry" Horner are part of the administrative group at Carlton - and also have links to Moonee Valley.
Tony is team manager of the Carlton Second Eleven. A Moonee Valley senior premiership coach, he has played around 80 games with us. Even though he's in his third season at Carlton he's still a regular visitor at Ormond Park, and played two games with us last season. Tony also coaches our Women's teams.
Phil is team manager of the Carlton Firsts. He's a past team-mate of Tony Gleeson and Paul Comino at the now-defunct Princes Hill Cricket Club, and came out of retirement last season when he joined Tony and Paul for a nostalgia game together, playing in the Moonee Valley Ninths. He's primed to add to his Valley tally this season.
Gary, a past president, secretary and committee member at Carlton and current Second Eleven scorer, takes a keen interest in what's happening at Ormond Park as he travels to and from Princes Park - and he makes sure his Premier club knows what we're doing right.
Moonee Valley is proud to have the friendship and involvement of these influential three.
---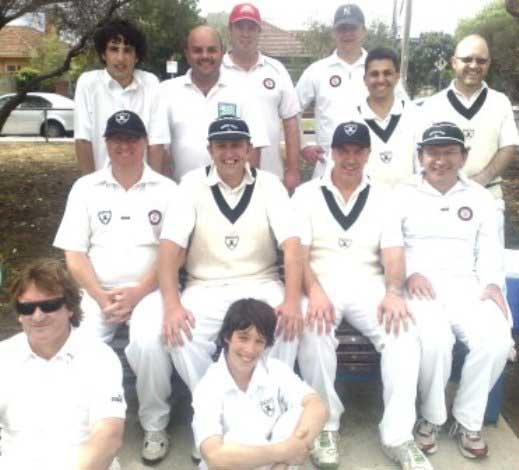 Sixths set new mark with Valleys record score
Moonee Valley's Mighty Fighting Sixths - previously the Mighty Fighting Eighths - have posted the highest score in the 37-year history of the Club.

The record-breaking team is shown here: (L-R) Back - Frankie Reitano, Tony Villani, Norm Wright, Antony Sherer, Chris Micallef, Paul Hobbs. Middle - Dean Lawson, skipper Brett Curran, Alan Harry and Mark Madden. Front - Steven Ball and 12th man Ashley Harry.

Playing against Buckley Park Fourths on November 1 on the first day of a two-day game, the MFS posted an incredible 3/475 off 70 overs to set a new mark for the Club across all grades. The opening partnership of 212 between Steven Ball (77) and Dean Lawson fell just short of the Club record 231 by Peter Boulouxis and Ian Sutherland in the Seconds in 1992/93.
And Deano joins the small but illustrious band of players at Moonee Valley to hit centuries in consecutive innings. His big knock of 157 followed on from his maiden ton the previous match against Sydenham-Hillside, when he clubbed 124. And Alan Harry matched Deano ball for ball, making 155 not out.

The opening stand was pushing on towards our record stand across all wickets - the 300 posted by Darren Nagle and Pat Felmingham last season - which in turn eclipsed the previous all-wickets record of 271, which was for the second wicket by Glen Courts and David Jolley in the Firsts in 1999/00.
The Mighty Fighting Sixths beat a relatively short-lived record with their 3/475.
The previous mark was set by our Seconds against Tullamarine in 2006/07, when the Valleys piled on 6/453. The highest score for our First Eleven is 439.
In reply on Day 2 - November 8 - Buckley Park made 166 off 52 overs, with Mark Madden taking 4/9 off eight overs and Antony Sherer taking 3/56.
It's been an incredible rise for the Sixths, who played in the North West Cricket Association One Day grades two seasons ago, before moving up to the NWCA Seventh grade last season. This season we got "promoted" two grades to the NWCA Fifth grade, but still the guys are carrying all before them.
---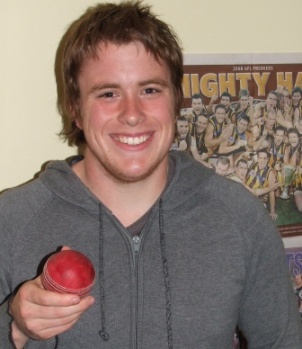 B

ig numbers for a big Valley weekend



Moonee Valley made a big impact on the November 1 & 2 weekend, with some BIG numbers with both bat and ball.

An incredible three of our players took seven wickets in an innings, and we had two players from the one match each hit up 150 runs.

While we can't state categorically that these occurrences are records, there are plenty of old heads around the Club who are confident that we've chalked up firsts on both occasions.

Our stats stars with the bat were Dean Lawson with 157 and Alan Harry with 155 not out in the Sixths, against Buckley Park.

With the ball, Evan Blythe took 7/29 as Moonee Valley's First Eleven routed Hoppers Crossing for 52. For our Second Eleven, Pat Felmingham was thrown the ball and promptly took 7/69 off 27 overs.

And our Fourth Eleven ventured to Barkly Street, where Nigel Walker took 7/49 off 20 unchanged overs - and considered himself lucky to still be on after going for 0/20 off his first three.

Nigel is shown here with the ball he used to do all the damage.

The Sixth Eleven score of 3/475 was a Moonee Valley record score across all grades - and the opening partnership of 212 between Steven Ball (77) and Dean Lawson fell just short of the Club record 231 by Peter Boulouxis and Ian Sutherland in the Seconds in 1992/93.

All in all, it was a bright and encouraging weekend for Moonee Valley.

*** For more information

, turn to our News pages.
---
Ten out of Ten for Moonee Valley - but Nine comes up trumps!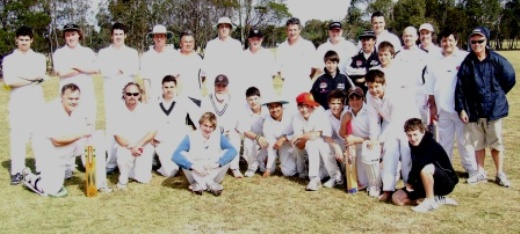 Moonee Valley carved its own piece of history on October 19, when we put a Tenth Eleven on to the field - and they played a Derby with our Ninths in the North West Cricket Association's One Day Red grade.

The squads are shown here: L-R: Standing - Andrew Pegg, Joe Van Loon,
Chris Sutherland, Shaun Rayment, Steve Malone, Nick Taylor, Wayne Nicol,
David Hutchison, Phil Coote, Lachlan Perussich, Mick Intagliata, Con Koulouris,
Luke Malone, Glenn Perussich, Russell Stubbs, John Martiniello, Kevin Memery.
Front - Shane Comino, Paul Comino, Chris Micallef, Joe Carroll, Allan Cumming,
Beau Velona, Lalith Buddhadasa, Alex Coote, Nathan Koulouris, Benn Martiniello,
Grant Stubbs and Thomas Memery.
For more details on the match, turn to the

News pages

.
---
Cup Day - at the Mighty Valley

Melbourne Cup Day was a big day at Moonee Valley. For photos and a 'match report', go to the

"New!!!!"

section of the menu at the top of this page.
---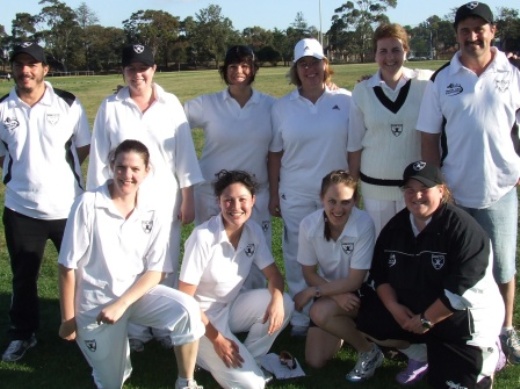 Women break through on a big Valley first weekend

Moonee Valley racked up its inaugural first win in women's cricket in a big first week for the Valleys in the 2008/09 season, when our White team took the first points of the season.
Four of our five teams which took the park on the October 4 & 5 weekend recorded strong wins, which carries great promise for the season ahead.
The winning team is shown above: (L-R) Back - team manager Danny Terzini, Bec Fitzgerald,
Tanya Intagliata, Jan Moore, Nicole McLachlan, coach Tony Gleeson. Front: Sharon Nicol,
Carolyn Tan, Clare Ardern and captain Sam Marr.

For more information, turn to our NEWS pages.

---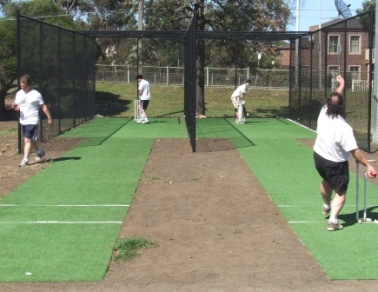 Net Result is great return
for the Valleys
Our new Ormond Park nets are finally up and running, and we're already noticing an improvement in training and enthusiasm.
We're no longer fighting to get a good bat or bowl, as the four nets now in operation give us the chance for a good hit-out.
Pictured at right at Sunday training: Steven Ball
with batsman Tom Aitken in the left net, while
Paul Comino bowls to Mick Bannister.
It's been a long drawn-out project, but now we can reap the benefits.
The concrete strips were laid mid-year, the carpet went down three weeks later and the cages were completed in August, so we're right into using the nets now.
These projects don't happen by themselves, so there are a lot of people to thank for their wonderful support and efforts.

Firstly, the fundraising.
Many of our members and parents either contributed directly or supported functions to raise the money, starting with Vice President Jim Polonidis who kicked off the fund with a pledge of $500 if Charlie Walker's mustache was shaved off after some 23 continuous years gracing his top lip.
Sixths player Mark Madden contributed significantly with his cheque book over several stages of the fundraising, and we're grateful for such a magnificent and sustained effort.
Cricket Victoria gave us a $3400 grant through Regional Manager Stuart Clark, which was also much appreciated.
Junior parent Mark Seers twisted the arm of his contacts in the steel and mesh industry, and Shane O'Brien responded with an excellent price for the black powder-coated cage which graces our new nets. Mark also lined up Leon Zelvys to erect the cage.
Dom Chiera as always was in the thick of things with the construction, leading a works crew which prepared the site and laid the base for junior parent Tony Reitano to lay the concrete.
Bob Sciacchitano also played a key role in the preparation of the site, with supervision provided by Darren Nagle.
Our works crew and other key helpers included Kevin Gardiner - who was always available for site inspections and innumerable visits - Phill King, Shane Tankard, Paul Comino and John Brelis. A job well done!
Thanks also to Glenn Mulcahy and Amanda Allen from Moonee Valley Council for their help and support.

---
Main Club contact details:
Richard Cooney - Club secretary 0411 034 707

Charlie Walker - President 0409 237 543; 9370 1802
Kevin Gardiner - Junior Co-ordinator 0417 536 896

For more contacts, see "Office bearers & Officials" under "Club News & Info" at the top of the page.


(email: -
mooneev@club.cricketvictoria.com.au
)
Our website:
http://archive.mooneevalleycricket.com.au
---
The Moonee Valley Cricket Club is a section of the
Moonee Valley Sporting Club
.
Last updated: November 15, 2008
For more history on our Cricket Club, including Premiership match reports, click here

November 25, 2008

charlie's firewood