We're honored to represent NWCA in Twenty20
by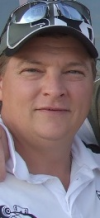 We're representing the North West in
Twenty20
Moonee Valley will be representing the North West Cricket Association in the Kookaburra Twenty20 competition this season, as our reward for winning the NWCA flag in the short game in 2008/09.
The competition kicks off at the Airport West-St Christophers ground in Etzel St on Sunday, November 8.
Moonee Valley, as the NWCA's representative, will be taking on Airport West representing the VTCA and St Francis representing the MMVCA to determine the Twenty20 champion from Cricket Victoria's Region 10.
The winner will then take on the champions from other regions, and the final will be played on the MCG. We will be doing everything possible to ensure it's Moonee Valley.
And here's the team that won the NWCA flag last season. L-R: Back
- Sean O'Kane, Amit Chaudhary, Arosha Perera, Jim Polonidis, Evan
Blythe, Matt Thomas, Peter O'Kane. Front - Steve Gentilin, Mark
Gauci, Geoff McKeown and Lou Raffaele.

Club President Charlie Walker (left) said our Club considered it an honor to be representing the NWCA.
"Moonee Valley had great success in the NWCA before we moved away in 1998 to enable our teams to play turf cricket," Charlie said.
"We have however continued our close association with the NWCA as we developed our junior program from 1996 onwards.
"We were also pleased to be able to return to the NWCA in a senior capacity in 2006/07 when we entered a team in the one-day competition.
"We now have our Fourth Eleven playing in the NWCA, as well as two one-day teams and our juniors.
"It is indeed an honor to have won the privilege to carry the flag for the NWCA in the Kookaburra Twenty20 competition."
Charlie said Moonee Valley regarded the NWCA Twenty20 competition as one of our priorities each season, and we were runner-up before winning the title in 2008/09.
A number of our players who will compete in the Kookaburra comp - which was formerly known as the VB Twenty20 - have come through our juniors, and most of our other top-grade players have also played one or more games in our NWCA grades.


23/10/09

October 29, 2009

charlie's firewood