VIK PUTS THE WIND UP THE WINDIES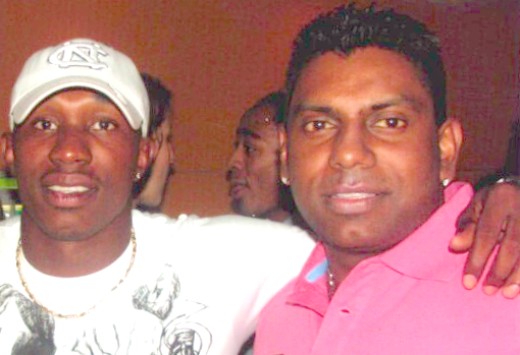 Moonee Valley coach Vikash Chand (right) with West Indies test star Dwayne Bravo on the Windies' last Australian tour.

Moonee Valley Cricket Club has appointed top-line player Vikash Chand as our coach for the 2006/07 season. And Vik's got impeccable credentials at the top grades of cricket, being called on to bowl to the West Indies stars whenever they visit Melbourne on their Australian tours.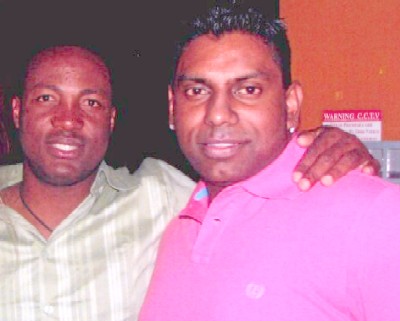 Vik is able to boast of claiming Windies batting maestro Brian Lara's wicket a number of times in the nets - but also ruefully talks about the times Lara also belted his best balls all around the park.

Vik Chand (right) is shown socialising with star Windies batsman Brian Lara after their nets sessions.

Vik has built up a good reputation and friendship with the Windies stars - but we're sure he won't be too friendly to the opposition when he takes to the field for the Valleys this season.

Vik, 29, a past District/Premier cricketer who has also played at the top levels in the Victorian Turf Cricket Association, is a frontline fast bowler who will also strengthen the attack in our First Eleven.

And it's not as though he's unknown to Moonee Valley, either. Vik played more than half the games for Moonee Valley in our Mid-Week Turf Competition team in 2005/06, and Moonee Valley wistfully remembers him for his role in 2001/02 in hijacking our bid to win back-to-back First Eleven premierships, when he played for East Coburg.

Vik's fast bowling will give Moonee Valley extra firepower. In 2002/03, playing for East Coburg in the Moreland-Moonee Valley A Turf comp, he took 32 wickets at an average of 11.47.

In 2004/05, playing for Keilor in the Senior Division of the VTCA, he took 14 wickets at 19.79. And last year, playing for Albion in the North A1 Division of the VTCA, his return was 31 wickets at 14.1.

Vik said he was looking forward to coaching Moonee Valley – and would not just be concentrating on the top side.

"My aim with such a big club as Moonee Valley is to take them to a Grand Final in a number of grades."

A team led by Vik won the 2005 Willowfest – a cricket carnival at Mildura held from Boxing Day each year, featuring many Premier cricketers and others from the top grades.

Vik played his District/Premier cricket with Carlton and Northcote.


August 11, 2006

charlie's firewood