The Johnny & Joe show - a memorable milestone game
by Charlie Walker

---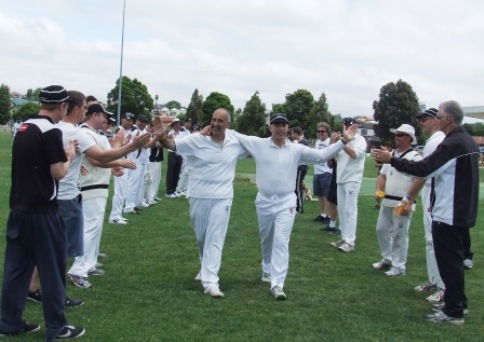 The Johnny and Joe Show - a memorable milestone match
Moonee Valley legends John Talone (left) and Joe Ansaldo (right) played their 300th games together on December 6, and it was fitting that they brought up their milestone at our Ormond Park home ground.

At left: Joe Ansaldo (left) and John Talone enter the field through an honor guard of past and present players for their 300th games.

They are both ornaments to the game and to our Club, and the milestone match against Sydenham Hillside in the North West Metropolitan Cricket Association's Barron Shield grade gave them a memorable opportunity to celebrate their milestone.

They're both Premiership players - Joe saluting for the first time only last season - and have made significant contributions to Moonee Valley both on and off the field.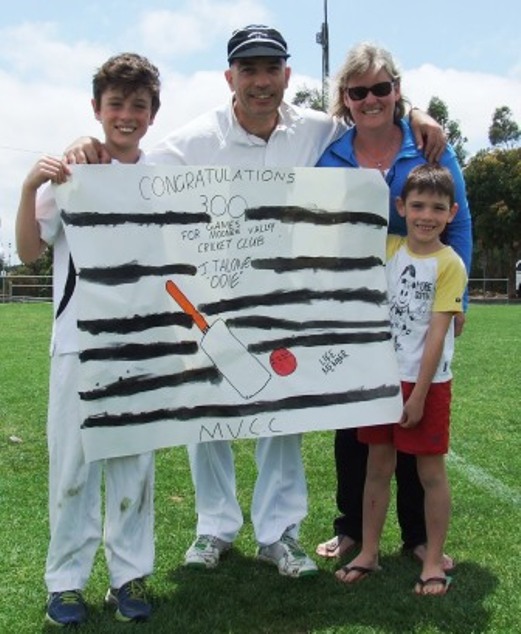 John was Club Secretary for a record 14 seasons during our heyday, when the Valleys won flags at will, and is still contributing by running our Milo In2Cricket program to give youngsters their first step in our great sport of cricket.

At right: John Talone got his own personal banner for the match - holding it here with sons Luke (left) and Max and wife Jodie.

Joe is a past committee member, and famous as Riverboat Joe for his wonderful poker night fundraisers.

Only two other Valley players have reached the 300-game milestone - Darren "Spud" Nagle and Ian "Egbert" Denny.

We had a strong line-up of past and present players put their hands up for selection in the milestone match, so we had a hard time fitting everyone in.

We invited all past and present Moonee Valley players and supporters to come down and cheer on our legends in their milestone match, and weren't disappointed with the line-up.

Their Sixths teammates got with Joe and John in our changerooms along with the First Eleven players who were on the turf ground, and heard from Club legends Darren Nagle and Sandro Capocchi about their great contribution to Moonee Valley.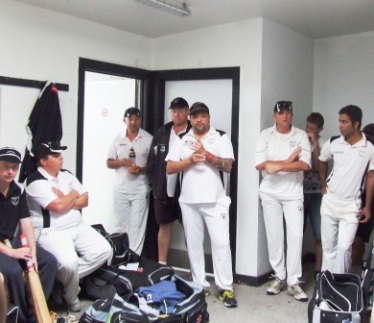 We also received plenty of messages of support to pass on to them, including from Club founder Ray Storey and 300-gamer Ian Denny.

At left: A rare glimpse at what goes on in the senior changing rooms - Club legend and past President Sandro Capocchi talks to the Firsts and Sixths players about the contributions of John and Joe.

The Sixths "did it" for the milestone players, rolling Sydenham Hillside for 108 in 33 overs. Joe Ansaldo took 1/34 off his seven overs, with several dropped catches harming his figures. John bowled one over for a miserly two runs.

John also had the honor of opening our innings with the great Mick Harvey, and carried his bat for an unbeaten 36 as we passed the score two wickets down after 17 overs. It was a fitting end to a memorable occasion.

**For more pictures from the remarkable day, click on this LINK.
---
December 8, 2014

charlie's firewood