The Cup - our function was the real winner
by
---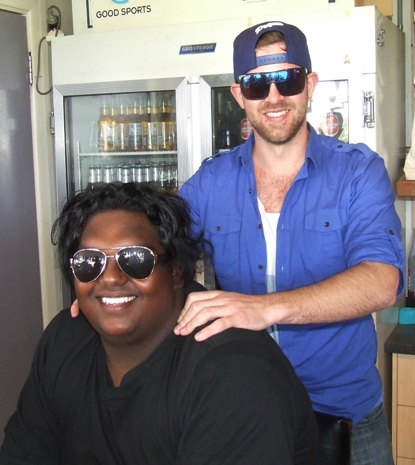 The Cup: Our function was the real winner!

Around 40 players, family and supporters gathered at Ormond Park on Melbourne Cup day as we celebrated the Race that Stops a Nation together.

We quickly overcame a small hitch - our booking at the bowling club fell through due to a mix-up - and we instead did our celebrating at our cricket pavilion.

At left: Our Cup Day organisers weren't flustered - in fact
they looked cool! Channa DeSilva and Matt Thomas put in
extended shifts behind the bar.

Thanks to committee member Matt Thomas for quickly sorting out this snafu, and for his work in organising and running the day.

Thanks also to joint organisers including Vanessa Riggio, Channa DeSilva, Michael Ozbun and Danny Terzini.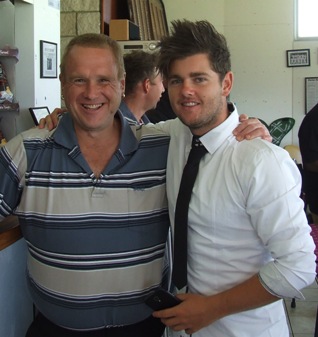 With their efforts the day went off without a hitch - and the Mexican-themed lunch cooked up by Vanessa and Matt went down an absolute treat.

The day was a good money-spinner for our budget, so thanks to everyone who attended - particularly those who bought up big on the sweeps, on the meat tray raffle prizes and across the bar.

At right: Peter Smith (left) and Chris Pollock enjoy the day.

And while we were partying in the rooms, hard-working curator Ian "Spider" Beel was out on the oval, preparing a pitch for Neil King's Essendon Over 60s team, which is based at Ormond Park this season. The team plays mid-week fixtures on Wednesdays.

Note: For more pictures from our Cup Day function, click HERE.


---
November 6, 2015

charlie's firewood