Simon tees up training tops
by Moonee Valley Cricket Club

SIMON TEES UP NEW TRAINING TOPS
Vice President Simon Thornton has organised our new training tops, and our players can all look smarter as we go through our sessions as a result.
The smart grey tops have been subsidised at $20 each, thanks to contributions by our sponsors, Income Solutions and Complete Stainless Steel.
Thanks go to our Sponsorship Manager, Evan Blythe for his work in facilitating this. Thanks also to our contacts at the two companies - Firsts batsman Steve Nickelson with Income Solutions, and First Eleven captain Mark Gauci at Complete Stainless Steel.
Our Club policy of requiring players to wear a white or predominantly white top at training has now been broadened to include a grey Club training top as an alternative to the white.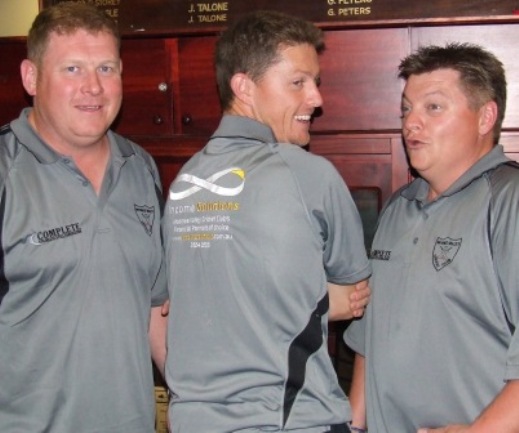 *Shown here modelling the new shirts are (L-R) Simon Thornton, Craig Pridham and Mark Gauci.

Anyone wanting to buy a training shirt should see Simon Thornton or Charlie Walker at training.

(January 2012)

January 16, 2012

charlie's firewood