Presentation Night 2012 at the North Suburban Sports Club: Page 2
by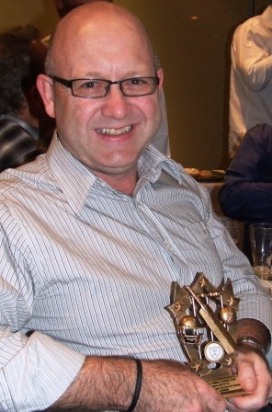 Our big night at the North Suburban Sports Club
Left: Paul Hobbs was the inaugural winner of the MVCC Wicketkeeper of the Year Award, an initiative put forward by Jim Polonidis as an amendment to our bylaws at the 2010/11 Annual General Meeting.

Below: 2011/12 Club Champion Amit Chaudhary with his wife Sween and their son Bharat.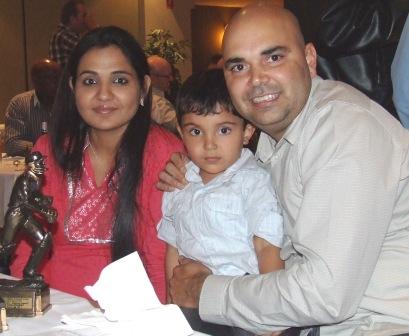 All the details; all the winners

Life Member Joe Ansaldo has won the coveted Lindsay Jones Best Clubman Award, which was announced at Moonee Valley's senior presentation night on April 21.

Revered Club founder Ray Storey and his wife Heather came down from their home at Leitchville, on the Murray, for the night, and presented the perpetual shield to great clubman Joe.

Ray donated the shield, in honor of the late Lindsay Jones. Joe Ansaldo is one of the few people still active around the Club who played with Lindsay, and spoke about it when he received the Shield.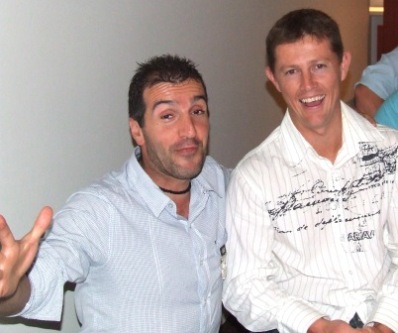 Amit Chaudhary won the Club Champion Award for the second successive year, again also taking out the First Eleven batting and bowling awards.

Jim Polonidis won the Coach's Most Improved Player Award, while Fourths gloveman Paul Hobbs won the inaugural Wicketkeeper of the Year award, across all grades.

It was again a wonderful night for players and long-time Club members, and was hosted by key sponsor the North Suburban Sports Club.

At left: First Eleven players Jim Polonidis
(far left) and Craig Pridham tell tall stories
about the one that got away.

In the introduction to the night, Club President Charlie Walker outlined the season that was, and spoke of some of the highlights of 2011/12.

He welcomed Life Members Peter Gardiner, Darren Nagle, Ray Storey, Joe Ansaldo, Jim Polonidis, Danny Terzini, Bob Sciacchitano and Jim McKenzie.

Charlie thanked the North Suburban Sports Club and outlined our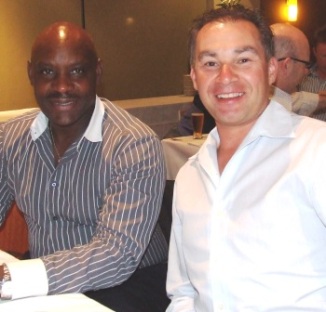 long-term relationship, going back to the time when Darren Nagle was our President.

Season 2011/12 was a momentous year for us - we celebrated the 40th anniversary of the Club, Spud Nagle's history-making 300th game and the cricket competition merger which saw all four of our turf teams turn out in the Victorian Turf Cricket Association.

Three of our turf teams, plus three matting teams made finals - but none got through to the Grand Final. But our Under 12s won their flag, carrying on a great tradition. There is only one season since 2003/04 when we haven't won at least one senior or junior premiership.

At left: I just love the tough drills at training, coach!
Coach Vic Hodge (far left) with Dean Jukic.

Pat Taylor in the Sixths won the NWMCA bowling award for the Barron Shield, and William Blair won the comp Under 12 bowling award. Peter Wright played for Victoria, and six other juniors were in rep teams.

We are in the process of finalising the appointment of our coach for 2012/13. The 2011/12 coach, Vic Hodge, is keen to go on; the committee and senior players are keen - so it's our expectation that we will finalise terms to see Vic in the Moonee Valley colors again next season. We've got a lot to look forward to!

***For more pictures and details, click here





April 23, 2012

charlie's firewood