Presentation Night - 2019/20 belated Page 1
by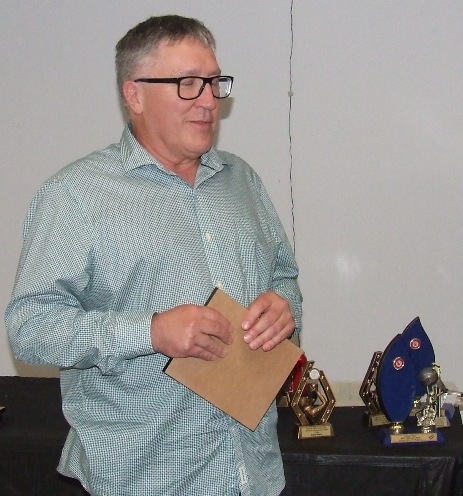 BATTING AWARDS
First Eleven Batting Award ANTHONY CAFARI 356 runs @ 39.56
Second Eleven Batting Award MARK GAUCI 236 runs @ 33.71
Third Eleven Batting Award IAN DENNY 356 runs @ 39.50

At right: Stuck for words? Peter Golding was awarded Life Membership plus the Lindsay Jones Best Clubman award.
Fourth Eleven Batting Award JAYKUMAR PATEL 253 runs @ 36.14
Fifth Eleven Batting Award LIAM SHAW 371 runs @ 74.20
Sixth Eleven Batting Award JESSE FELLE 207 runs @ 34.50
Winter Competition 2019 Moonee Valley Black Batting Award JORDON McDONALD 284 runs @ 94.67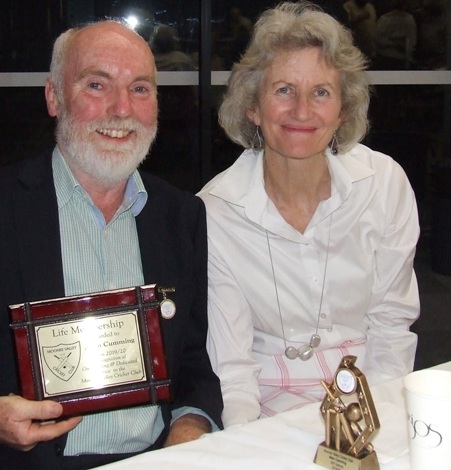 BOWLING AWARDS
First Eleven Bowling Award JACK NEWMAN 20 wickets @ 8.70
At right: A well-deserved 200-gamer and Life Member - Allan Cumming with Claire Henderson.

Second Eleven Bowling Award JIM POLONIDIS 18 wickets @ 11.39
Third Eleven Bowling Award DEAN JUKIC 30 wickets @ 9.00
Fifth Eleven Bowling Award CASSIDY BOX 29 wickets @ 10.31
Sixth Eleven Bowling Award JESSE FELLE 21 wicket s @ 15.86
Winter Competition 2019 Moonee Valley Black Bowling Award MATTHEW ESMORE 9 wickets @ 16.44
Winter Competition 2019 Moonee Valley White Bowling Award BENJAMIN SMITH 9 wickets @ 9.11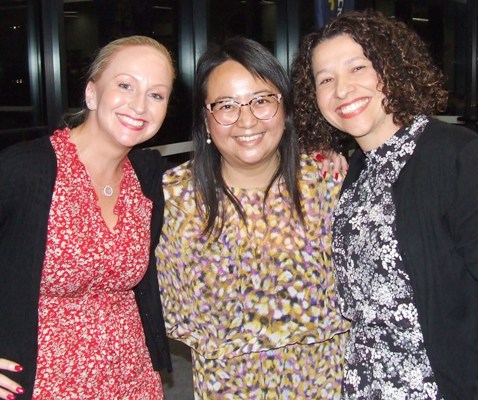 FIELDING AWARDS
First Eleven Fielding Award DANIEL COMANDE 16 Votes
Second Eleven Fielding Award Equal: MICHAEL OZBUN 8 votes; STEPHEN WARD 8 votes

At right: Thanks to the partners: L-R Vanessa Schuller, Tien Polonidis and Agatha Jukic.
Third Eleven Fielding Award PETER GOLDING 21 votes
Fourth Eleven Fielding Award JAYKUMAR PATEL 13 votes
Fifth Eleven Fielding Award PADDY SHELTON 13 votes
Sixth Eleven Fielding Award DEJAN GILEVSKI 12 votes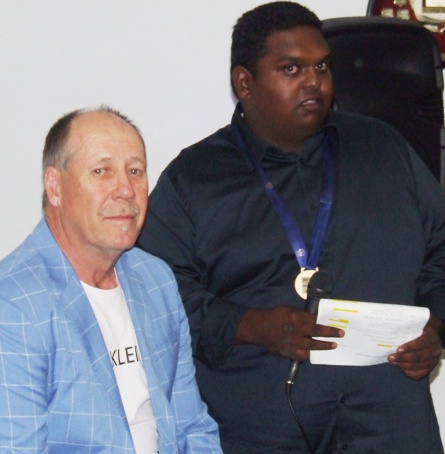 Seventh Eleven Fielding Award CHANNA DESILVA 6 votes
Winter Competition 2019 Moonee Valley Black Fielding Award XAVIER CAHILL 10 votes
Winter Competition 2019 Moonee Valley White Fielding Award JUSTIN WEST 7 votes
At right: Ian Denny is somewhat nonplussed waiting for a "roast" from MC Channa DeSilva.

Club Champions
Moonee Valley Cricket Club - Club Champion 2019/20 Anthony Cafari 656 points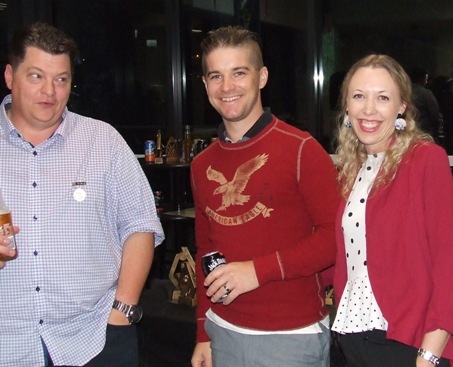 Moonee Valley Cricket Club - Sean O'Kane Award 2019/20 Best Player – all other grades Dean Jukic 659 points
Most Improved
Most Improved Player Award - Coach's Award Luca Nimorakiotakis

At right: Talking tactics for the following day's game: Mark Gauci with Stephen and Fiona Ward.
Wicketkeeper of the Year
Best Wicketkeeper all Grades PETER GOLDING


Games Milestones
Jim Polonidis 300 games
Allan Cumming 200 games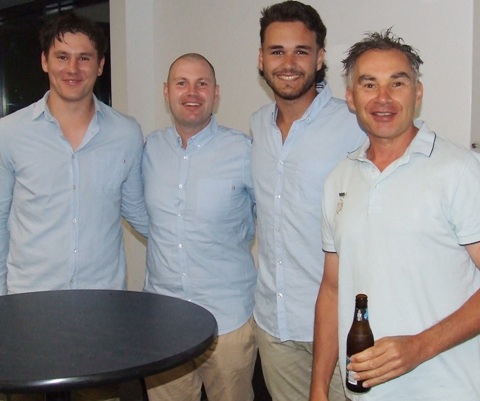 Peter Golding 200 games
Matthew Thomas 200 games
Jack Newman 100 games

At right: Blue shirts and tan trousers are worn by all the fashionable people - and Deano!. L-R Jack Newman, Dom Rettino, Luke Brock and Dean Jukic.
Stephen Ward 100 games
Stephen Esmore 100 games
Tony Gleeson 100 games
Joshua Norsetter 100 games
Dominic Rettino 50 games
Shane Chalmers 50 games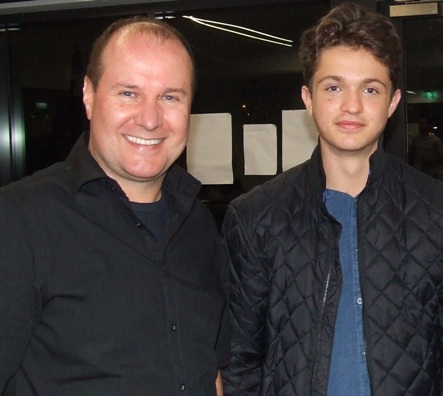 Brendan Rhodes 50 games
Manu Singh 50 games
Runs milestones
Channa DeSilva 3000 runs

At right: Hat-trick taker, MVP winner and young gun Dejan Gilevski with dad Tony.
Dominic Rettino 1000 runs
Luke Brock 1000 runs
Charles Bibby 1000 runs
Wickets milestones
Jim Polonidis 400 wickets
Jesse Felle 400 wickets
Mark Gauci 300 wickets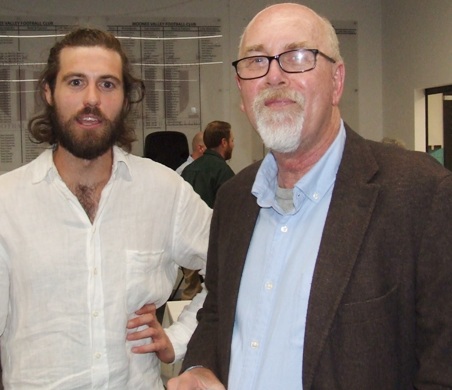 Dean Jukic 300 wickets
Matthew Esmore 150 wickets
Joshua Norsetter 100 wickets

Jordon McDonald 50 wickets
Justin Trowell 50 wickets
Hat-trick
Dejan Gilevski Hat Trick & 3/15 Sixth Eleven v Pascoe Vale Central Round 14 2019/20

At right: Bowling tips from a couple of quicks: Cassidy Box (left) and Kevin Gardiner.
FIVE-FOR WICKETS –
Jack Newman 6/26 First Eleven v Sunshine YCW Round 11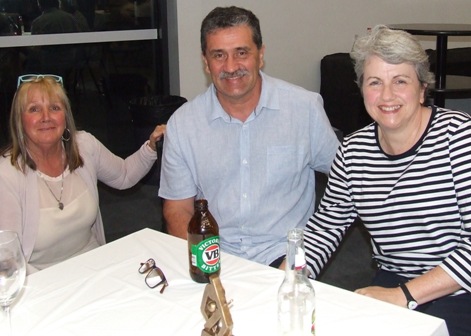 Sameera Vithana 6/62 First Eleven v Sunbury Grand Final
Luca Nimorakiotakis 6/28 Second Eleven v Footscray ANA Round 13
Jim Polonidis 5/11 Second Eleven v Sanctuary Lakes Round 2
Muhammad Ashraf 5/5 Second Eleven v Sunbury Round 6

At right: Sitting back and relaxing: L-R Adele Walker, Tony Gleeson and Nicole McLachlan.
Dean Jukic 5/9 Third Eleven v Flemington Round 5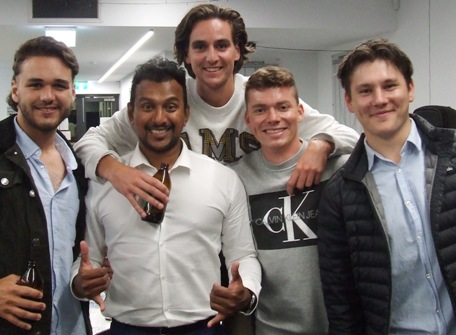 Manu Poulose 5/17 Fifth Eleven v Northern Lions Round 4
Daniel Comande 5/19 First Eleven v Sanctuary Lakes Round 2
At right: The band is back together: L-R Luke Brock, Shiwantha Kumara, Anthony Cafari, Dan Comande and Jack Newman.

Cassidy Box 5/19 Fifth Eleven v Gowanbrae Round 3
Sagar Bhatia 5/21 Third Eleven v Indigos Round 10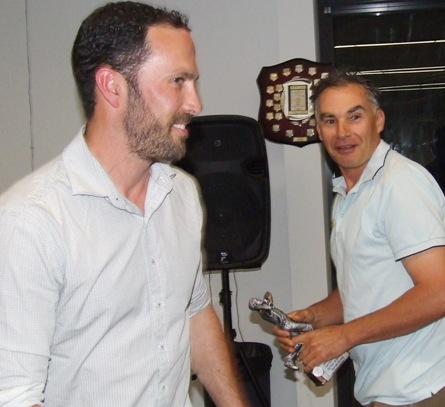 Mitchell Britton 5/30 Sixth Eleven v Sydenham Hillside Round 13

Dean Jukic 5/30 Third Eleven v Indigos Round 15
Shane Chalmers 5/33 Fifth Eleven v Maribyrnong Pk/St Marys Semi Final
At right: Crossing paths: Michael Ozbun leaves centre stage while Dean Jukic comes forward to accept the Sean O'Kane Award.

Markus Harris 5/43 Fourth Eleven v Brunswick Round 7
Markus Harris 5/83 Sixth Eleven v Royal Park Reds Round 5

Centuries:
Anthony Cafari 129, 1st Eleven VTCA Div 5, Rnd 5 vs Bellbridge.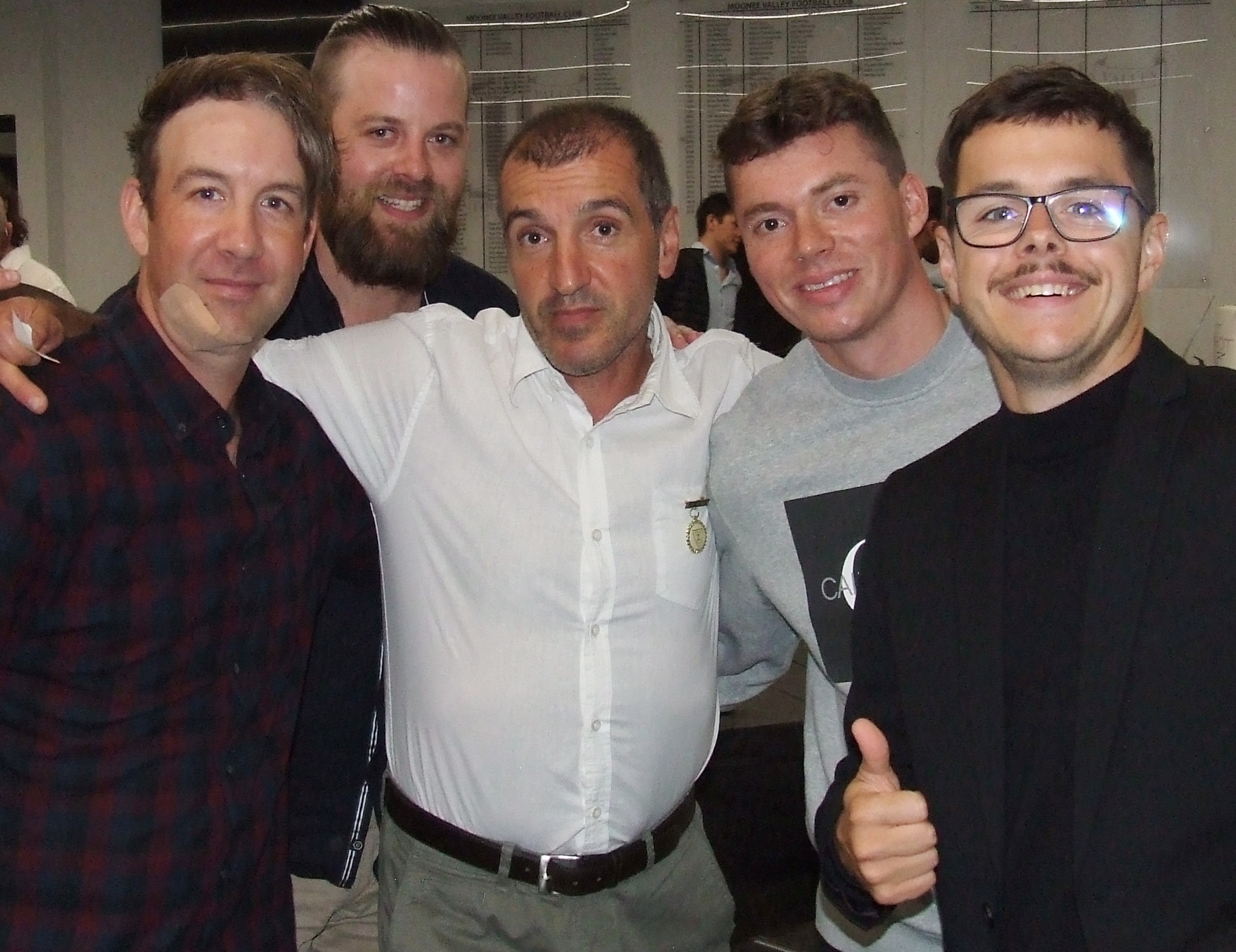 Daniel Phillips 103 no, 3rd Eleven MCA OD C North, Rnd 4vs Parkville District.
Donovan Pell 103, VTCA T20 comp, Rnd 3 vs St Andrews Footscray.

At right: A Motley Crew - L-R Ben Thomas, Matt Thomas, Jim Polonidis, Dan Comande and Troy Smith.
Liam Shaw 102 no, 5th Eleven NW OD 4ths, Semi Final vs Maribyrnong Park St Marys.
Liam Shaw 101 no, 5th Eleven NW OD 4ths, Rnd 1 vs Maribyrnong Park St Marys.
Jarrad Sims 100 no, 7th Eleven NW OD Sunday, Rnd 2 vs Shakti Lions.

Life Membership
Life Membership awarded to ALLAN CUMMING Season 2019/20 in recognition of Outstanding and Dedicated Service to the Moonee Valley Cricket Club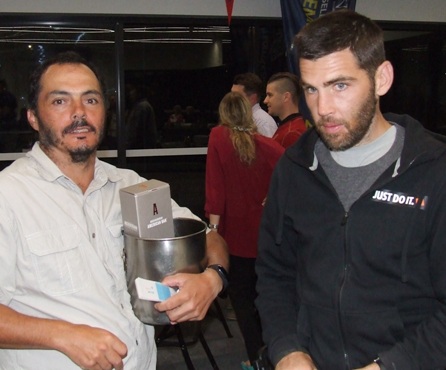 Life Membership awarded to PETER GOLDING Season 2019/20 in recognition of Outstanding and Dedicated Service to the Moonee Valley Cricket Club

Lindsay Jones

LINDSAY JONES MEMORIAL AWARD IN MEMORY OF A TRUE & RESPECTED CLUB PERSON. A perpetual record of the best Clubperson of Moonee Valley Cricket Club Season 2019/20 – Peter Golding

At right: Selling raffle tickets: Dan Terzini (left) and Alistair Bloom.

Most Valuable Players

MVP First Eleven ANTHONY CAFARI

MVP Second Eleven JIM POLONIDIS

MVP Third Eleven DEAN JUKIC

MVP Fourth Eleven JAYKUMAR PATEL

MVP Fifth Eleven CASSIDY BOX

MVP Sixth Eleven DEJAN GILEVSKI

MVP Seventh Eleven GRAEME BLOOM

More pictures - click HERE

February 8, 2021

charlie's firewood