Premiership 2011/12 Under 12 C
by
Under 12 C Grand Final - Moonee Valley vs Coburg, Fairbairn Park 24th March 2012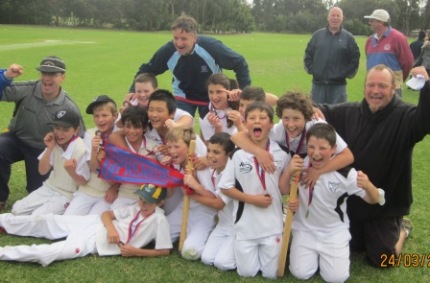 Match report by Under 12C
Coach Paul Baks
Most of the players turned up to the ground not knowing who we were playing. Controversy surrounded the previous week's semi-final between Keilor and Coburg.

Assistant Coach Bill Blair and I were concerned about the intensity, or lack of it, that the team trained with leading up to the game. Had the team peaked a week early?

It became apparent that Coburg was to be our opponent. Their protest against Keilor from the semi-final had been successful.

Pictured here: The Under 12 team with their 2011/12 flag and medals. Coach Paul Baks (right) is joined by assistant coaches Michael Cumbo (left) and Bill Blair, while Moonee Valley legends Warwick Nolan and Tony Hicks stand in the background. Players, L-R: Back - Riley Boxshall, Julia Spagna, David Comande, Noah Gordon. Middle - Lawson Pegler, Leon Hill, Jackson Baks, William Agius, William Blair, Benson Pisanelli, William D'Amico, Sebastian Pozzebon. Front - Isaac Coleman,

Only weeks earlier we played Coburg, but the match was washed out after we made a reasonable total with the bat. There was a feeling of uncertainty.

It was eased slightly when I was approached by Big Will Agius before the game. Our oval was a hundred yards from the Maribyrnong. Will asked me if it was okay if he hit the ball into the river.

Yep, go for your life Will! I knew our fortunes would rest, to a degree, on the performance of Big Will. Bill and I decided to put him down the bottom of the batting order with a licence to thrill. It later turned out to be a pretty good move.

We won the toss and decided to bat. Our openers Jackson Baks and Will Blair were watchful and steady. Over the season the two had combined very well, scoring heavily and seeing off the new ball.

Both players had developed a good understanding of each other's game and were quick to steal singles. Today they both looked switched on.

With a narrow pitch and the umpires strict on wides, extras were going to be a major factor. Jackson and Will saw off the first four overs. They scored runs off their own bats, and remained not out.

The game was going to plan. We were on track to score over a hundred and we had Big Will ready and raring to go at the end of the innings.

Will D'Amico and David Comande were next in. Will D went out cheaply but he was to prove his worth later in the game. David remained not out and would come back in for another bat later in the innings. While the scoring was starting to slow down, we achieved our first goal of having three of our first four batsmen not out and ready to bat again.

Isaac Coleman joined David at the crease. Isaac had transformed himself from a fiery fast bowler to a genuine all-rounder. He came in watchful and steady, aware of the value of staying in. Benson Pisanelli joined Isaac. Benson's contribution with the bat was brief but his star would also shine later in the game.

The team then struggled for some time, unable to score and a few wickets tumbled. Coburg was bowling tight and its fielders were switched on.

When Riley Boxshall came to the crease things started to pick up again. Riley had really lifted for the finals and his efforts proved inspiring for his team mates. He remained not out on 8. Lawson Pegler also came in and remained not-out, allowing the top order batsmen to re enter the game as well as the big-hitting Will Agius.

He didn't hit any in the river. But he did make a few parents nervous about where they'd parked their cars. Will plays like a man against boys.

He can hit sixes with almost every shot in the book. Some of sixes aren't even in the book. The Coburg coach moved his fielders to the boundary but he needed them in the carpark.

Earlier in the match Bill Blair felt 120 would be a good total to defend. Our 116 wasn't too shabby.

Our bowling attack has been our strength; all year we were the top wicket-taking team.

Early in the season we leaked a lot of runs, but the team had tightened up both with our no-balls and our backing up in the field. Our Fielding Captain Julia was in full voice. Her experience, cricket nous and encouragement had so often got us over the line.

Will Blair steamed in to open the attack, obviously inspired by winning the Association's bowling award. His partner in crime Isaac Coleman was bowling thunderbolts. While neither nabbed a wicket, Coburg's run rate was reaching drought proportions.

No relief for Coburg when Will D'Amico came into the attack and finished his spell with 1 wicket for no runs. Will showed his integrity the previous week and today was his day with the ball.

Mid innings Coburg started making its charge, and while we felt they never quite got their nose in front, they only ever seemed like a boundary or two away from ascendancy.

The remainder of the game seems blurry. Riley Boxshall took a tumbling catch that lifted the team. A couple of catches were dropped.

Leon Hill weaved his magic, causing mayhem with his turn and flight. Like Hendrix made guitars talk, Leon makes cricket balls defy physics. He makes the ball float and dip, fizz and bounce, and swirl and twirl. It's a joy to behold.

Lawson Pegler again showed his mettle, snaring another wicket to become the leading wicket taker in the finals. Benson Pisanelli, who was down on himself, redeemed himself catching a ball that appeared to fall from the clouds.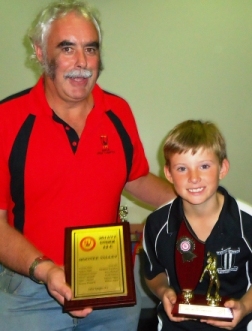 Will Blair, safe as a house caught one. Will D'Amico took two catches, one of which had him almost lying on the field, eyeballs bulging, hands ready and everyone else with their hearts in their mouth. But why worry, cometh the hour, cometh the man. Will D, the man with the safest hands in the business.

Jackson Baks' form behind the stumps was that of a seasoned campaigner. A slick caught behind, a runout that, had it been baseball ,would have resulted in a double play and a calm and positive attitude that ensured everyone kept their head. It was worth noting a couple of mid-pitch meetings Jackson called to settle his bowlers down.

At left: Moonee Valley bowling champion Will Blair with his
competition trophy is joined by MVCC president and NWMCA junior
official Charlie Walker with the Club's premiership plaque.

With an over to go Coburg needed 10 runs to win. 10 from 6 balls.

Enter Will Blair. First ball. No-ball. Nine from 6.

In the next four balls there were two singles and two runouts. Seven from 2.

Dot ball. Pitched up, straight through to Jackson. Seven from 1. Should be right now. What about a no- ball?

Will Blair measured his run up. What a star. Dot ball. Jubilation! Moonee Valley's Under 12s had won the Premiership!


May 1, 2012

charlie's firewood