Premiership 2007/08 Under 14 F
by
Under 14s tough it out to the flag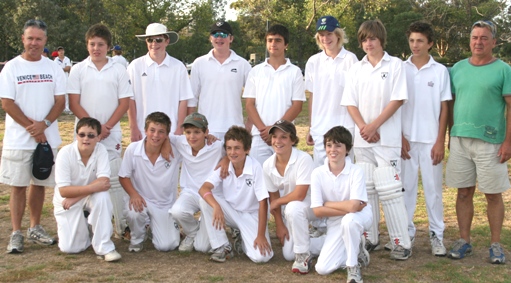 After a slow start to the season, Moonee Valley's Under 14 Gold team won enough games to finish third on the ladder and make the finals. And that was enough to secure our spot for our march to the Premiership.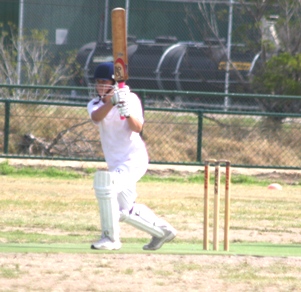 After an easy win over Brunswick Reds in the semi, we were up against St Andrews in the big game after they beat Gladstone Park.

The Moonee Valley v St Andrews F Grade Grand Final was going to be a tight contest as we had played them twice for one win and one loss.

The Grand Final started with St Andrews batting, and Andreas Panousieris and William Lenz opening our bowling. We got a vital early wicket, getting their best batsman out for a duck. He had made 50s in both games during the season.

Robert Bryant (right) drives for four - the winning runs!

Our players now had to keep their minds on the job and continue to apply pressure. St Andrews had started to build a good partnership with the score reaching 73, when a change to the bowling resulted in Robert Bryant picking up an important wicket. Another wicket followed quickly when Seamus Hobbs struck with his off spinners.

St Andrews continued to bat well until the score reached 105, when William Lenz came back on and picked up the fourth wicket at 112. Other quick wickets followed at 112, 121, 125 and 125. With wickets to Andreas, Tom Memery and Chris Saragias, we seemed to be well on top.

But St Andrews refused to give up and their last two wickets put together 26 runs to be all out for 151.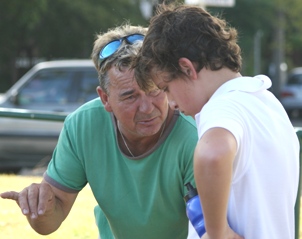 Our players worked very hard in the field, with great efforts by Rohan Sheils, Daniel Gorham, Matthew Digiovine, Nathan Koulouris, James Webster and our other players.

When it was our turn to bat we started well, with Liam Curran and Seamus Hobbs reaching 29 before Seamus went out. Liam went quickly after and we were 2/29. The game was up for grabs.

Andreas Panousieris and Benn Martiniello worked hard to push the score along till Andreas lost his wicket with the score on 69. Tom Memery joined Benn and the two took the score along to 109 before Tom lost his wicket after batting well.

Coach Steve Malone (left) gives advice to Benn Martiniello, who had a magnificent knock.

Benn was joined by Will Lenz and took the score to 119. Then Benn went, caught for a great match-turning innings of 42.

We were now 5/119. Game on!

Chris Saragias joined Will Lenz but got a good ball. Daniel Gorham came to the wicket, and the two more senior players batted bravely. They moved the score along to 136, when Daniel went out.

It was going to the wire. Robert Bryant joined Will Lenz and the two boys took the score past St Andrews – with Rob hitting a four to secure the premiership.

Moonee Valley's win in the final was a great performance, as it was a blend of first-year and second-year under 14s. The team had come a long way from the start of the season, when many of the players did not know each other very well.

I hope the boys all had a fun year, and will be back at the club to continue to develop their careers.

Thanks to Chris Lenz, Chris Sheils, Kevin Memery, Con Koulouris, Helen and Tony Bryant, John Martiniello, the mums for my coffees and all the other parents that helped at various times during the season.

Stephen Malone.
Coach.

Pictures: Chris Lenz


June 16, 2008

charlie's firewood