Premiership 2006/07 Under 12 H
by
Moonee Valley's Under 12 Green team became the fifth junior flag winner in the Club's history with a nail-biting win in the H Grade Grand Final.

The match was played on the Sunday, after all play on the designated day – Saturday, March 24 – was washed out.

That meant the Mighty Greens were pipped by the Under 16s in notching up Moonee Valley's first 2006/07 flag – as the older boys did not need to take their match into the reserve day.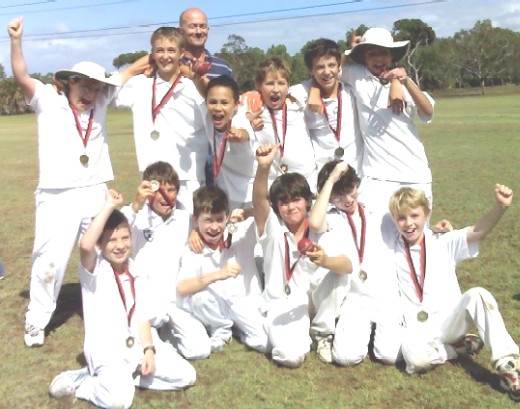 Pictured here with coach Glenn Perussich is the flag-winning Under 12 Green team: L-R:
Back - James Webster, Tim Ryan, Colin Watson, Nick Brelis, Luke Marinelli, Michael
Marinelli. Front - Elliot Seidel, Lachlan Perussich, Nick Seers, Hugh Alexander,
Rohan Sheils, Alastair Sheils.
Our Valley Green boys finished second on the ladder, and scraped in to the Grand Final by the barest of margins with a last-gasp side-on runout effected by Lachlan Perussich in the Semi Final.


In the Grand Final we batted first and lost a couple of early wickets, which set us back a bit with our scoring.


The ground had been very wet the day before, and boundaries were hard to get.
The opposition, Kensington Juniors, were bowling quite well. But Moonee Valley steadily went along scoring by good running between the wickets and pressuring the fielders.


It was hard going, and we battled to 7/93 off our designated 28 overs.
Luke Marinelli top scored with 12 not out, and Lachlan Perussich was second with 11 not out. They were the only two to make double figures on a tough day for batting.

Nick Brelis had a hat-trick on, and bowled very well for his return of 2/14.


Under 12 Green started the season as a development side. Many of the boys hadn't played competition cricket and were very inexperienced.


This showed in the early grading games, where we had low scores and only won two out of the four.


But during the season there was a very fast improvement in the way the boys played – not only their batting and bowling, but understanding the importance of good fielding, running between the wickets and team spirit.

The boys fought every game out to the end, winning one game in the last over, just losing another in the last over, and winning the Semi Final by a bare two runs.

We also made some huge scores during the season as the boys developed their skills, with four of the boys making 50s when we had the chance to play the longer game in the two-day matches.

It was a job well done!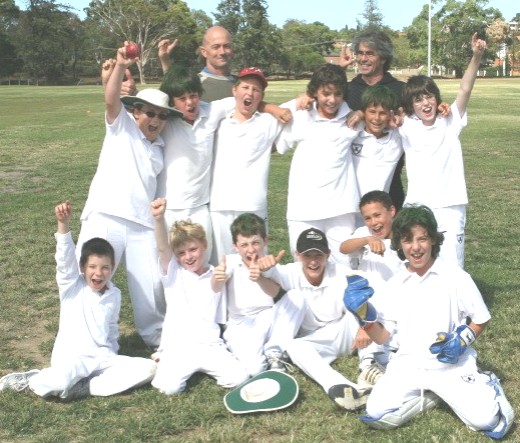 And here's the group after their one-run win in the Semi Final, with coaches Glenn
Perussich (left) and Grahame McCulloch.


June 25, 2007

charlie's firewood