Valley bowlers dominate Oak Park
In a dour struggle, Moonee Valley prevailed over adversaries Oak Park due to a match winning innings from Rod McLeod and sustained pressure from fielders and bowlers alike. In a low scoring affair, the opposition were set a target of 160 to secure the flag after already winning on the first innings.

With the premiership slipping through our fingers, inspiration came from Dick Reddish.

Ray Storey won the toss and elected to bat. Rod McLeod and Jim Noonan opened the batting with Jim going out for a duck and he was quickly followed by Rod - run out for 1. With the score on 2/2, John Lopes joined Ken McLeod. Ken was sensationally sent on his way, given out for interference with the score still on 2. Ray Storey came to the wicket. The score moved along to 19.

John Lopes was out caught, bringing Garry Campbell to the wicket. Campbell's wicket fell with the score on 29 and the Valleys were in major strife at 5 for 29. Colin Netherclift joined Ray and together they were able to build the best partnership of the innings of 25, until Stores was dismissed and the Valleys were left at 6 for 54. At this stage only two fours had been struck, both by Ray Storey. Dick Reddish joined Colin.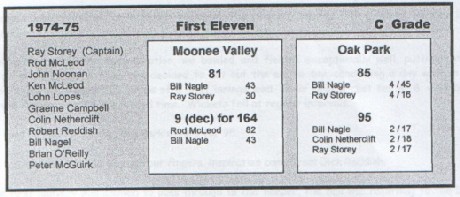 When Colin was dismissed for a well-made 13 the score had still only reached 56. Dick was the next to go, lbw for 12 and Moonee Valley had scrambled to 8 for 74. The destroyers for Oak Park were the Whelan brothers who bowled a good line and length, putting pressure on all batsmen. At this stage, they had taken six of the first eight wickets between them.

Brian O'Reilly came and went without troubling the scorers, leaving last man Peter McGuirk to partner Bill Nagel. But the end came quickly and the Valley had to be content with a meagre 81.

Nagel and Netherclift opened the bowling. Oak Park crawled along to 20 without loss before a bowling change saw Ray Storey grab immediate success. Wickets began to tumble with Storey and Nagel picking up a couple each, and Oak Park were panicked at 4 for 23.

Excellent catching and fielding kept Moonee Valley in the contest. Two fine run-outs added to the mayhem, but the Parkers were able to inch past to grab a first innings lead.

Moonee Valley's second dig started one short, with "Diamond" Jim Noonan being unavailable. Brian O'Reilly deputised as opener but was dismissed for 2. Bill Nagel was promoted to No. 3 with success, and he and Rod McLeod took the attack to the opposition. They carved up the bowling for a 109 partnership before Bill was caught for a well-made 43.



Oak Park fought back with good bowling by Montgomery and Nellman to bundle the remainder of the team out, and Moonee Valley had collapsed to be all out for 164. Only Rod McLeod got amongst it, top scoring with a precious 82 runs.

The scene was beautifully set for a classic showdown. The final day started with Oak Park needing 160 to win outright.

With typical Moonee Valley determination, we bowled and fielded exceptionally well, putting extreme pressure on every batsman. Oak Park decided to bat out the entire day, concluding a day with no risks would allow them the pennant by virtue of a first innings lead. Their first wicket fell at 8, with Storey breaking the opening stand for a second time. Wickets fell at regular intervals.

With one over of play remaining. Oak Park were 9 for 95. With the premiership slipping through our fingers, inspiration came from Dick Reddish.

After the first delivery was allowed to pass through to the 'keeper, the ball was returning to the bowler via first slip. Dick played Moonee Valley's last ace - the old "hiding the ball" trick. As the batsman stepped out of his crease to face up, Dick threw down the stumps and thus secured a victory for Moonee Valley.

July 26, 2005

charlie's firewood