---
EVERY

POSTIE

A WINNER!

Moonee Valley's Mister Afternoon Tea, "Postcode" Peter Smith played his 200th game for the club in the opening week of the 2018/19 season, and is to be congratulated for sticking to his sport despite injury setbacks and weekend work commitments.
At left: The Sevenths team for Peter Smith's 200th game. L-R. Back - Nigel Cowan, Michael Ozbun, Ben Thomas, Matt Esmore, Shiwantha Kumara, Dishnaka Manoj, Stephen Esmore, Jim Polonidis. Front - Lachlan Smith, Peter Smith, Geoff Smith.
Pete has taken swags of wickets in every grade from the Seconds down, and celebrated his milestone with the inclusion of brother Geoff and nephew Lachlan in the team.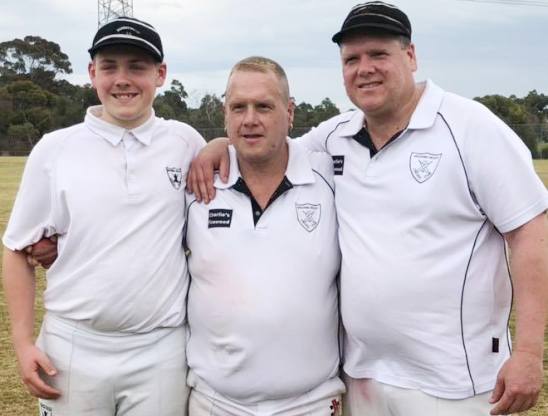 Geoff and Lach live in Maryborough, but were keen to make the trip to play alongside Pete in the Sevenths for the October 7 fixture.
Postcode has been a stalwart for our afternoon teas for a decade, more recently doing the Sunday-only teas because of Saturday work commitments, and is always happy to put his hand up to support our club.
At right: A family celebration - L-R Lachlan, Peter and Geoff play together in the milestone game.
Peter first played for Moonee Valley in 2001/02, having followed younger brother Geoff across after they both played a lot of cricket together at Surrey Hills.
He's taken 303 wickets with his wily off-spin - the ninth-most wickets of anyone at our club - and while his batting his reaped him much more than 700 runs, he's always happy to be selected down the order.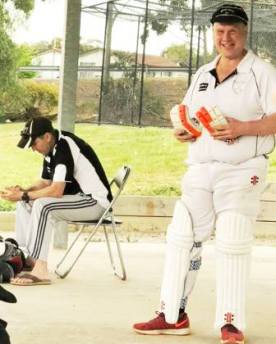 Pete's best bowling is 6/11, and he's taken seven five-wicket hauls for the club.
At right: Pete Smith readies himself to take on the bowlers, while the day's skipper, Jim Polonidis offers wise words of encouragement.


October 11, 2018

charlie's firewood