Pink Stumps Day 2012
by Moonee Valley Cricket Club

Moonee Valley boys strike a pink patch in their match
Moonee Valley Cricket Club was decked out in pink for the February 18/19 weekend, and our players ditched their traditional black and white caps.
But it was all in a good cause - Pink Stumps Day was marked around Australia to highlight breast cancer awareness and to encourage testing and research.
We used pink stumps on the turf ground at Ormond Park for both the Saturday and Sunday games, marked the boundaries with pink cones and had the keepers - Trent Milne on the Saturday and Geoff McKeown on the Sunday - wearing pink pads and gloves. The First Eleven players on the Saturday took to their fielding innings all wearing pink caps.
Coach Vic Hodge was the driving force behind our participation in Pink Stumps Day, and it's expected that we will have raised more than $600 for the cause.
Vic turned up to watch the game wearing a lurid pink cardigan and a pink wide-brimmed hat - and he had no chance of hiding. With his hot pink garb, he could be instantly spotted from any corner of the ground. Well done Vic!
People can still donate to the cause by putting cash in the tin in the clubrooms, or donating direct via our Club through the email address http://pinkstumpsday.gofundraise.com.au/page/VicHodge.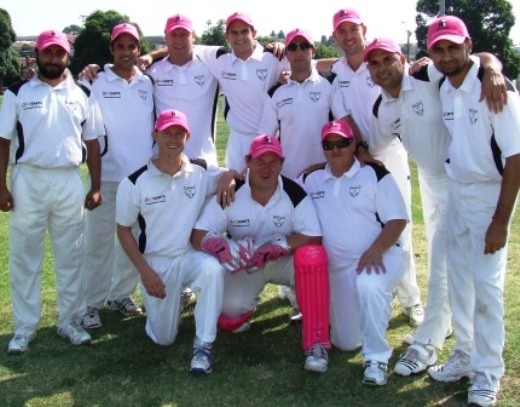 Showing their support (above) are the Firsts, playing against (and beating) Werribee Centrals. L-R: Back - Ihtisham Uddin, Nasir Ahmed, Ian Denny, Steve Nickelson, Jim Polonidis, Matt Thomas, Amit Chaudhary and Shafi Hassan. Front - Craig Pridham, Trent Milne and Mark Gauci.

February 18, 2012

charlie's firewood