Our first season VTCA - in words and pictures
by
Our first VTCA season - 2002/03
Season 2002/2003 went down as a new beginning for the Moonee Valley Cricket Club.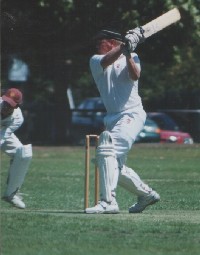 With the decision of the committee to leave the Moreland/Moonee Valley competition and enter the VTCA, new opportunities opened up for the club and its players. For both the 1st Eleven and the 2nd Eleven to make the finals in our first year in a new competition was an outstanding effort.
The first game of the season was a reality check for us, with Flemington ruthlessly demonstrating what was needed to be be competitive at this higher level.
But to Moonee Valley's credit we fought back, and it was Flemington who we met in the First Eleven Grand Final. And they they demonstrated what attrition cricket was all about - being prepared to play dull and boring cricket with the objective of hanging around all day.
(At right - Darren Nagle batting in the A North team at home at Ormond Park).
Eighteen players represented the 1st XI in our first VTCA season.
The committee made a brave decision at the start of the season to move the top two sides to a new competition, and that decision was justified by our efforts in getting the Firsts to the Grand Final.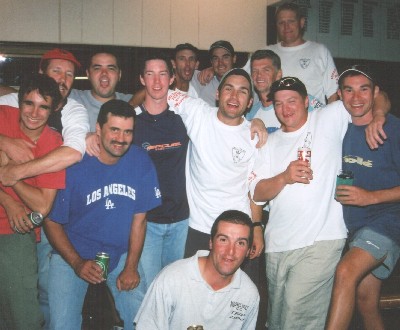 Moonee Valley was promoted into North "A" grade for the following season on the basis of its Grand Final performance, but now that it has moved back to B North since the start of the 2004/05 season it is consolidating its position again.
We didn't win the Grand Final in 2002/03 - but we still celebrated back at the bowling club on the Sunday night.
Letting their hair down on their achievements are (L-R) Murray Walker, Ian Denny, Dale Hadfield, Tony Gleeson, Rob Taylor, Michael Harvey, Matt Gauci, Paul Nicol, coach Rex Bennett, Darren Nagle (rear), Mark Gauci and Dean Jukic, with Jim Polonidis (front).
It was a wonderful achievement to go as far as we did in our first season in the VTCA.
The Second Eleven also put up a staunch fight in the semi final, but also had to lower its colors to Flemington - but not without giving them a real scare.
Enjoying themselves back at the bowling club after the First Eleven Grand Final are (L-R) Damien Bilsborow, Dale Hadfield and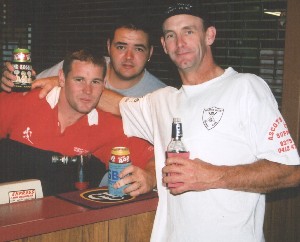 Michael Harvey.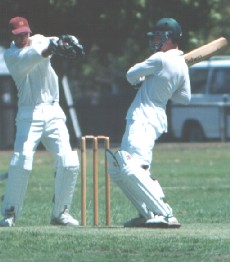 Matt Gauci lets one go through to the keeper - playing at home at Ormond Park, Moonee Ponds.

For more photographs, click here.

July 22, 2005

charlie's firewood