Our Spider gets the score on the board
by Charlie Walker
Our Spider gets the score on the board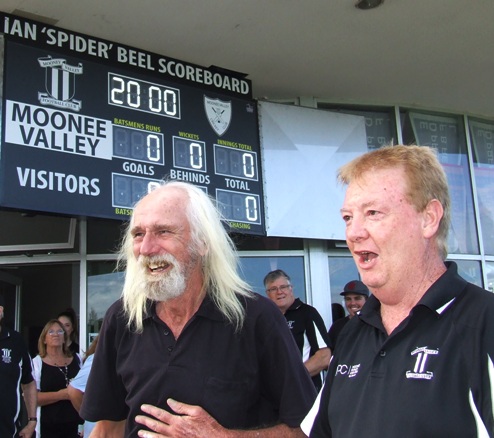 Ormond Park identify Ian "Spider" Beel thought his days were numbered when he was summoned across to the sports pavilion - but the only numbers were up in lights.

The Moonee Valley Football Club and Moonee Valley Cricket Club jointly named the new electronic scoreboard the "Ian 'Spider' Beel Scoreboard" in honor of his immense contribution to our clubs.

Spider was caught unbewares by the honor, which had been agreed to in utmost secrecy and he was none the wiser when called across before the start of the Moonee Valley v East Keilor football match on May 7.

He has curated our cricket pitch since Moonee Valley first moved to turf in 1998/99, has a history with the football club stretching back much further, and combined with his bowls playing and curating duties, is at Ormond Park nearly every day of the week.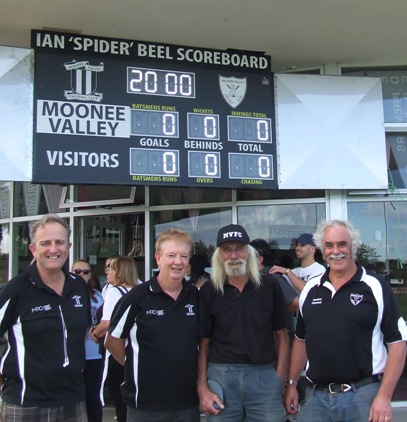 The announcement was made by Moonee Valley Football Club president Steve Radford - a major sponsor and past player of our cricket club.

In announcing the honor, Steve paid tribute to the efforts of MVCC past player Alan Thomas in managing the scoreboard project, and current players Matt Thomas and Mark Gauci in installing it.

Our thanks also go to the Moonee Valley City Council for the grant to enable the scoreboard project to go ahead.

Even though it's the cricket off-season, Spider hasn't been letting the grass grow under his feet. Within two days of the last over of cricket being bowled at Ormond Park, Spider laid out and watered in rolls of prime Santa Ana couch grass across the batting boxes of our pitch. It is being well trampled in by the footballers - as was Spider's intention - and so we should again have an excellent wicket for the 2016/17 season.

Well done Spider! It's an honor well deserved, and we will all be able to acknowledge your contribution to both our clubs every time we look up to see the score.

Top right: Much-loved Ormond Park cricket/football/bowls stalwart Ian Beel seems delighted
as MVFC President Steve Radford makes the scoreboard-naming announcement.

Bottom left: The numbers don't lie: Not on the Ian "Spider" Beel Scoreboard. Enjoying the occasion were (L-R) MVFC Secretary Brett Curran and MVFC President Steve Radford (both also Moonee Valley cricketers),
guest of honor Ian Beel and MVCC President Charlie Walker.


May 9, 2016

charlie's firewood