Our Presentation 2018 - Page 2
by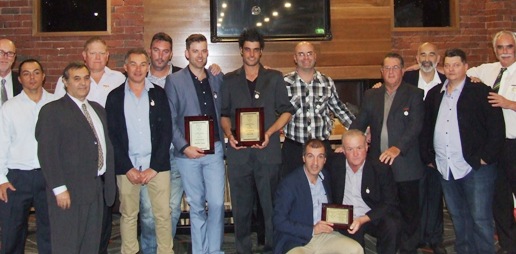 Above: The Life Members gather to welcome the new inductees. From left; Kevin Gardiner, Danny Terzini, Bob Sciacchitano, Darren Nagle, Dean Jukic, Jim McKenzie, Matt Thomas, Jesse Felle, Michael Cumbo, Ray Storey, Joe Ansaldo, Mark Gauci, Charlie Walker. Front - Jim Polonidis, Sean O'Kane.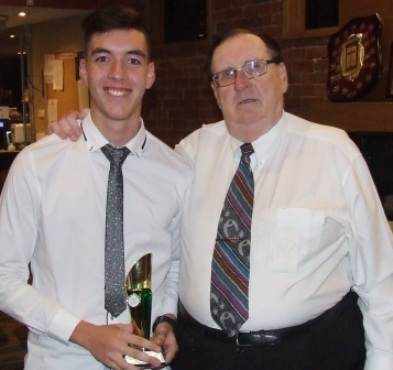 We had a full and hectic program to get through at our April 14 Presentation Night. Here are some of the highlights.
Michael Ozbun - winner of the Lindsay Jones Best Clubman award
Charlie Walker announced and presented the Lindsay Jones Best Clubman award to Michael Ozbun.
When Michael Ozbun man came to the Club around Christmas time in 2012, he couldn't bat and he couldn't bowl.
At right: Nigel Cowan won the Bendigo Bank Most Improved award - announced and presented by his father, Nigel Snr.
He made three ducks in five innings, and hit 23 runs for the season – 22 of them in his final dig. His efforts with the ball yielded 72 runs and no wickets off 6 overs – and I reckon a fair whack of the runs were no-balls for chucking.
"We're now in our 25th year of the Lindsay Jones award, and in that time we've only had two people who have won more than one – Mick Harvey and myself," Charlie said.
"We now have three.
"When Michael won his first Lindsay Jones in 2015/16, it was presented in absentia. Ozzie was back home visiting family in the United States.
"If it's anything to do with Moonee Valley Cricket Club, he's here virtually all the time."
Here's a list of some of his achievements over the last season. And with Ozzie, a lot of these achievements go back multiple seasons.
These include:
Captain of our Second Eleven – for the second season in a row.

Captain of a winter comp team – coming up for his fifth season in charge.

Four years now on the Club committee
At right: A selection of committee members and Life Members: L-R Brendan Rhodes, Dean Jukic, Michael Ozbun and Jim Polonidis.


Our sponsorship manager for several seasons.

Tireless efforts in the sponsorship manager role, including getting major sponsor Bendigo Bank on Board; numerous visits to Hoppers Crossing this year as part of getting Spartan on board and organising our after-match shirts.


Our main man organising Jenkins Meats, and running the barbecue and bar at the Friday night junior games.

Our go-to man with accommodation – Chanaka Silva and Nadeera Thuppahi in 2016/17, and James Wolfenden and Sean Duckworth this season.

Organised and printed our membership cards.

A key organiser of the MVP night and other club functions and fundraisers.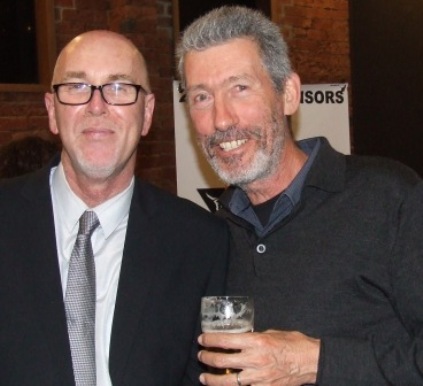 Ozzie's now learned how to face up and bat with a cricket stance – not a baseball stance. The Seconds seems to be our problematic grade, largely because we don't get umpires.
At right: Two former Junior Co-ordinators - Kevin Gardiner (left) and juniors founder Chris Ayers.Ozzie won't take a backward step on behalf of his team, and as a result has locked horns with a number of clubs over the past couple of seasons – Caroline Springs, Jacana and Sunshine spring to mind, and he's also prepared to take on the VTCA.
Ozzie's come a long way in what would have been a foreign and incomprehensible game to him – he's now played more than 100 games at Moonee Valley, made a few runs, including some diligent innings' as an opener.

But his contribution off the field has demonstrated to us that he has all the attributes of our selfless past clubman the late Lindsay Jones – and Michael Ozbun is a worthy winner of the 2017/18 Silver Jubilee Lindsay Jones Best Clubman Award.

Sean O'Kane Life Membership
We caught Sean O'Kane unawares when we made a surprise announcement and presentation of a Life Membership medallion in his home town Barooga in January.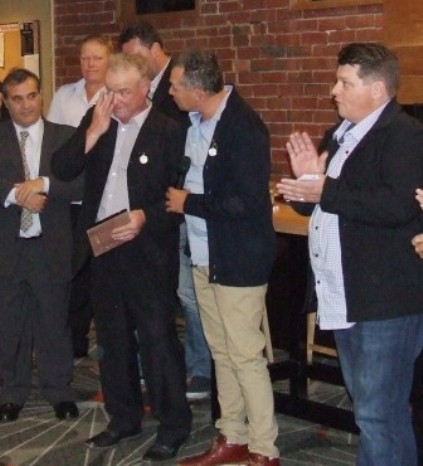 We were up there for our fifth successive annual Barooga Over 35s cricket tournament – organised for us by Sean – and billed it ostensibly as a Premiership reunion of the two flag teams Sean has played in.
He was back down in Melbourne for Presentation Night, when we presented Sean with the plaque to go with his Life Membership, for a conspicuous and meritorious contribution to our club over 10 years.
The presentation was made by fellow Life Members Mark Gauci and Dean Jukic.
At right: That's not a tear? Sean O'Kane gets ready to respond after receiving his Life Membership plaque.
Sean has made a significant contribution to Moonee Valley on and off the field – organising and in many cases bankrolling our participation at Barooga, sponsoring the club, providing accommodation for past import Kris Garland – who came out from England as a surprise visitor for the Barooga presentation – and his overall selfless contribution to our Club.
Sean won the Lindsay Jones Best Clubman award in 2013/14 for his significant contribution, and twice won the Moonee Valley award for the best player in all grades other than the Firsts – in 2007/08 and 2014/15.
In 2013/14 he won the batting, bowling and fielding awards in the Fourths, but Sean got more satisfaction from jointly winning the fielding award in the Sixths the following season – it was a Premiership with his mates.
Sean has played 117 games for Moonee Valley, scoring 3329 runs @ 33.29 and taking 76 wickets @ 16.98.
He's a three-time Moonee Valley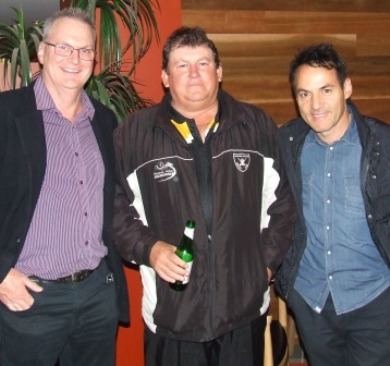 Wisden Player of the Year, has clubbed nine centuries and has the three highest tallies off a single over in club history – a 36, a 35 and a 34.


At right: Celebrating the night: L-R Doug Cumming (50 games), Shane McDonald (50 games) and Sam Carbone (2000 runs).



**FOR MORE PHOTOS AND WORDS, CLICK HERE



April 24, 2018

charlie's firewood