Our most valuable players - all the winners
by
Our Most Valuable Players - all our winners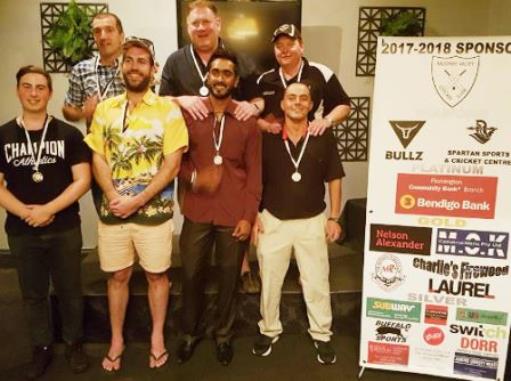 The Moonee Valley Cricket Club held our Most Valuable Player awards at the Laurel Hotel on March 11, and the worthy winners of our prestigious awards were crowned.
Votes are cast on a 5-4-3-2-1 basis for each game of the season, so the awards sort out the week-by-week contributors from the flash-in-the-pan players.
At right: Our MVP winners: L-R Matt Esmore (3rds), Jim Polonidis (2nds), Liam Farrell (6ths), Simon Thornton (4ths), Chanaka Silva (1sts), Mark Gauci (7ths) and Danny Terzini (5ths).
The votes were cast round-by-round on an electronic screen - thanks to Peter Golding's computer expertise - and while some of the voting was close, we had a couple of runaway winners in the grades.
Winners in all seven grades were in attendance on the night to receive their MVP medallions.
The night also counted the Fieldlow votes in each grade, and the Fielding Award trophies will be presented at our Presentation Night at the Moonee Ponds Club on Aprl 14.
Our thanks to the Laurel Hotel in Ascot Vale - one of our major sponsors - for hosting the night, and to Peter Golding and Simon Thornton for tallying ad compiling the votes.
Thanks also to Michael Ozbun, Matt Thomas, Channa DeSilva and other members for organising the venue and the night.
The MVP was a good bookmark on the long weekend to a hard-fought two days of finals, and enabled our Firsts to let their hair down - briefly - after their hard-fought semi final win.
It was also a chance to acknowledge the Thirds, who came agonisingly close in their semi final after recovering from a tough start with the bat.
It's also important to acknowledge that two of our other teams - the Sixths and the Sevenths - pressed a couple of weeks into the finals before bowing out. And our Under 12s and second Under 14 team are still in the thick of finals, with crucial games this coming Friday.
For more pictures and detail from the MVP, click HERE.


---

March 13, 2018

charlie's firewood