Our Mick makes merry in his 150th game
by Charlie Walker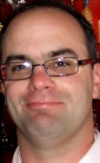 ---
Our Mick makes merry for his 150th game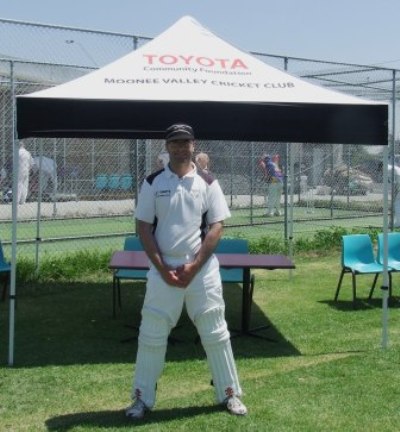 Moonee Valley's own Michael "Mickster" Cumbo got into the party spirit when he played his 150th game on February 1.

Clubmates celebrated the significant milestone as Mickster - one of our most beloved players - held centre stage in the clubrooms after being part of the Sevenths win.

And on the following day, Life Member Michael Harvey played his 250th game, alongside James Holt playing his 50th club game in the Fifths.

Mickster is a wonderful contributor to our Club and players old and young alike wished him all the best on the achievement.

Our Mick has scored a century with the bat, taken a hat-trick and contributed as fielding coach and assistant coach for several junior premiership teams.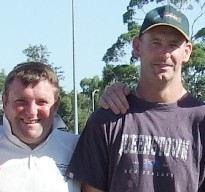 He's always one of the first to commit to attending our Club functions, and is the life of the party with his raucous laughter and infectious good humor.

Well done Mick, and let the next milestone roll on now!

Above right: Our Mickster: Michael Cumbo stands in front of the Club's Toyota marquee as he celebrates his 150th game.
Above left: James Holt (left) with 50 games and Life Member Michael Harvey with 250 also achieved important milestones for our Club.
For team photos, click HERE.

February 2, 2014

charlie's firewood