Our Liam sails away to a distant Shore
by Charlie Walker
Our Liam sails away to a distant Shore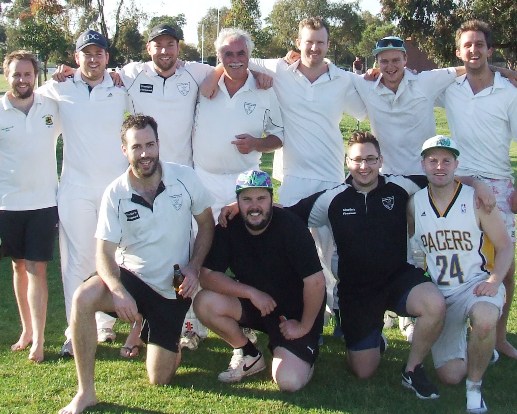 Liam Shaw's headed to distant shores. He's pictured here with his teammates in his match before his farwell function. L-R: Back - E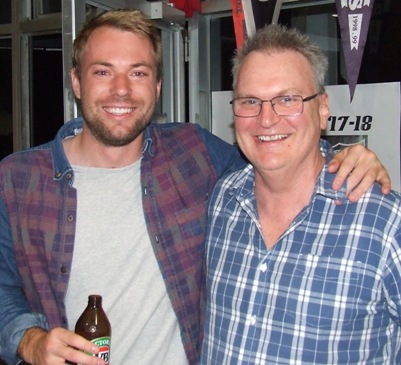 lliott Hughes, Sam Gunther, Liam Shaw, Charlie Walker, Justin Trowell, Dylan Jamieson and skipper Paddy Shelton. Front - Liam Farrell, Shane Chalmers, Nick Brelis and Dominic Rettino.

Record-breaking Moonee Valley batsman Liam Shaw won't be adding to his runs tally in the Valley Wisden - at least for now.
Liam is the only player in our history to hit three consecutive centuries, and his 791 runs in 2016/17 had him third on our all-time season's run tally.
At right: Liam Shaw with one of his skippers from previous seasons - Doug Cumming.
His work has taken him to Western Australia, and we held a farewell function for him at the Ormond Park clubrooms on November 11 - even though he pulled on the whites for his farewell appearance a week later.
At least Liam's got a Moonee Valley connection in Perth - he's already signed on with Bedford Morley Cricket Club, joining past Sixths teammate Chris Rebeiro, who returned to his home state the previous season.
Liam has been a great clubmate and teammate in his four seasons at Moonee Valley, scoring 1023 runs at an average of 53.84 and proving an agile and reliable wicketkeeper.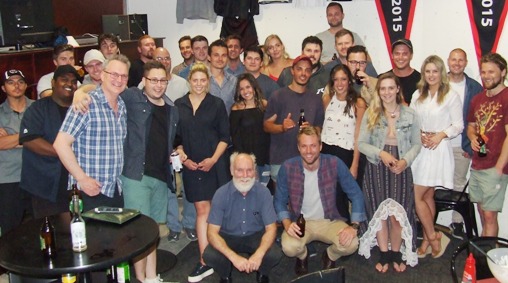 Liam Shaw - at front with Allan Cumming - has friends and teammates with his as we celebrate his career at Moonee Valley.
***More pictures from the night - click HERE

---

November 14, 2017

charlie's firewood