Our key coaching leaders
by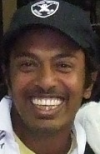 Our key coaching
leaders
Moonee Valley Cricket Club has reappointed Lou Raffaele (left) as our Senior Coach for the 2009/10 season, with Mark Gauci (right) reappointed as captain of our First Eleven for his fifth season and as one of our Assistant Coaches. Arosha Perera (below left) has been reappointed an Assistant Coach.
It is Lou's third season in charge of the biggest cricket club in Victoria.
Club President Charlie Walker said Lou has led significant improvement in our playing group in his time at Moonee Valley.

"His coaching and leadership played a major role in our top three teams making finals in 2008/09, and other improvements across the Club," Charlie said.
Anyone looking for a great club to play in the coming season should ring Lou on 0433 854 549 or Charlie on 0409 237 543.

September 29, 2009

charlie's firewood