Our highest honors at presentation night
by

---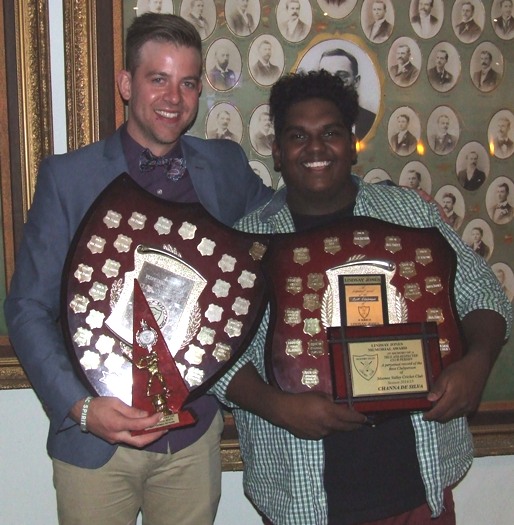 Our highest honors at Presentation Night


Channa DeSilva and Mark Cini were afforded Moonee Valley Cricket Club's highest honors at our Presentation Night on April 18 - Channa won the Lindsay Jones Best Clubman award, and Mark was elevated to Life Membership.

Matt Thomas, who has been at Moonee Valley since Under 12s, won the Club Championship award for the second successive year, and Sean O'Kane's stellar season, which culminated in the Sixths Premiership, netted the Moonee Valley Award.

At left: Badges of honor - Club Champion Matt Thomas (left) and Lindsay Jones Best Clubman Channa DeSilva.

Around 60 players and partners attended the event, at the Moonee Ponds Club.

The Lindsay Jones Award and Life Membership are the two greatest honors which can be bestowed at our Club, and both Mark and Channa are worthy and deserving recipients.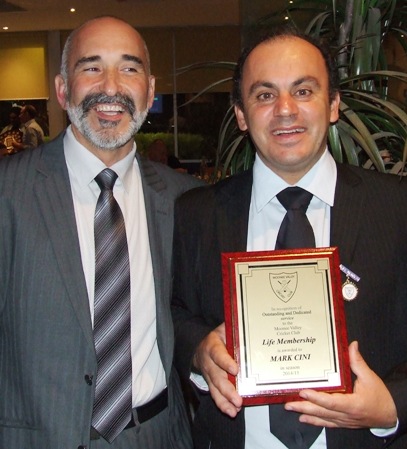 Channa started pre-season late because he wasn't certain with his level of commitment or even if he was going to play, but ended up taking a crucial role in junior development, answering the call when needed in our top grades, and playing a crucial role in the Second Eleven Premiership.

Mark has been a stalwart of our Club for 200 games, and was acknowledged by Fourths captain Allan Cumming as his crucial right-hand man in marshalling the team into the finals this season.

"Junior" was inducted into the Life Membership Club by fellow Life Member Sandro Capocchi, and was joined at the front of the room by the other Life Members in attendance.

At right: New Life Member Mark Cini (far right) with his mentor and fellow Life Member Joe Ansaldo.

He particularly acknowledged Joe Ansaldo for persisting with getting him to come to Moonee Valley and continue playing.

A visibly shocked Channa acknowledged his love of Moonee Valley and his belief in a strong future built on some of the younger players rapidly gaining senior experience.

He was warmly acknowledged by everyone in the room when his honor was announced by Club President Charlie Walker.

Channa and Mark, we salute you!

****Click HERE for more photos and details from Presentation Night.

April 21, 2015

charlie's firewood