Our congratulations to Sean and Mark
by Charlie Walker

Our congratulations to Sean and Mark

Sean O'Kane and Mark Gauci were afforded Moonee Valley Cricket Club's highest honors at our Presentation Night on April 12 - Sean won the Lindsay Jones Best Clubman award, and Mark was elevated to Life Membership.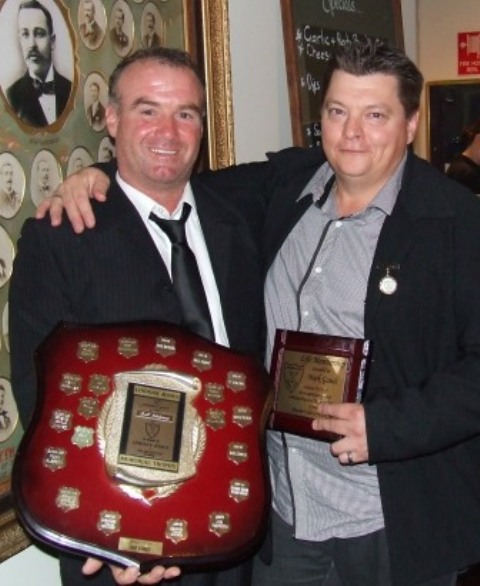 They are the two greatest honors which can be bestowed at our Club, and both were worthy and deserving recipients.
Mark Gauci told of things to come almost 10 years ago when asked about his future: "I love the game and the club I play for. I will play 200 games or more - trust me!" How true!
Along the way he captained the First Eleven for eight years, including our 2009/10 Premiership, has served on the committee, brought in valuable sponsorship, done many tasks around our Club which go unnoticed by many, and been a real leader.
He was inducted into the Life Membership Club by fellow Life Members Darren Nagle and John Talone, who as President and Secretary at the time had faith in Mark's leadership and appointed him Firsts captain.
Another eight Life Members joined Spud and Odie on stage for the induction, and another Past President, Sandro Capocchi, pinned his Life Membership medallion to his chest.
The Lindsay Jones Award for Sean O'Kane was announced by Vice President Simon Thornton.
Simon spoke of Sean's cricket prowess as a First Eleven Premiership player, five-time centurion and sweep of the Fourths awards, but concentrated on his wonderful contibution as a clubman.
Sean organised and funded the Moonee Valley entry in January this year in the Over 35s tournament in his home town of Barooga, arranged the accommodation and purchased the playing shirts for the guys.
He opened his home for the year for our UK import Kris Garland - at no cost to the Club.
Sean is a genuine all-round nice guy who hasn't lost his country way of doing things, and is a deserving winner.
Mark and Sean, we salute you!
Above: Two Great Clubmen: Sean O'Kane (left) with his Lindsay Jones Best Clubman shield, and Mark Gauci with his Life Membership plaque.

*****Click HERE for more photos and words from the Presentation Night.

---
April 14, 2014

charlie's firewood