MMVCA presentation night
by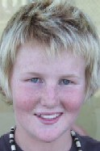 Two Moonee Valley players finished high up in the awards at the Moreland Moonee Valley Cricket Association presentation nights, on Friday, April 30.

Our Seventh Eleven captain, Sunny Sharma, (right) finished second in the batting award with 390 runs at an average of 39. Sunny, whose team finished on top of the One Day Division 2 ladder, also came second in the best player award.

Sam O'Brien (bottom right) finished second in the best player award for the C Turf competition, where our Thirds played off in the Grand Final. Sam's season saw him take 20 wickets @ 11.8, while he also made 91 runs.

Sam's brother John won the bowling award in the same grade last season.

Moonee Valley's Thirds, Fifths, Sixths and Sevenths played in the MMVCA last season, while our Eighths played two games as well before we had to withdraw them due to the closure of Debneys Park.


Our Club was well represented at the presentation night:

* President Charlie Walker, who played two games in MMVCA in 2009/10.
* Adele Walker, from our Women's teams.
* Ryan Fairclough, Committee member and captain of our Sixths.
* Steve Malone, player, Committee member and co-coach of our Under 16 Premiership.
* Kevin Memery, Tenths player and co-coach of our Under 16 Premiership.
* Pat Taylor, Fifths/Sixths player and coach of Under 14s.
* Nick Taylor, Ninths player.
* Glenn Perussich, Tenths player and Under 14s coach.
* James Thorneycroft, winner of our Sixths bowling award.
* Jim McKenzie, Life Member who played three MMVCA games this season.

May 1, 2010

charlie's firewood