Mark Gauci - 300 magnificent games
by Charlie Walker
MARK GAUCI - 300 MAGNIFICENT GAMES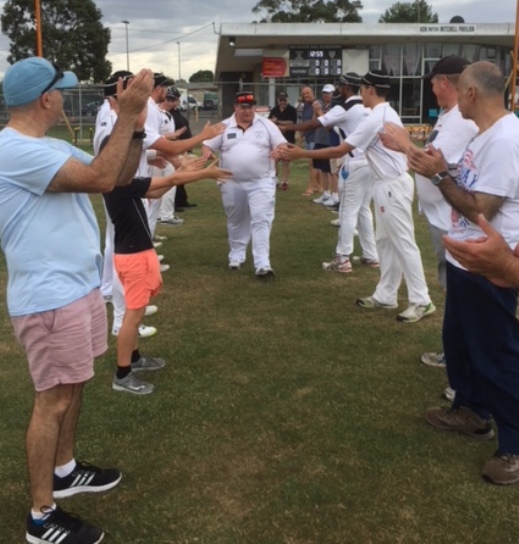 Mark Gauci gets a guard of honor as he makes his way onto Ormond Park for his 300th game, including
fellow 300-gamers John Talone (front left) and Joe Ansaldo (front right).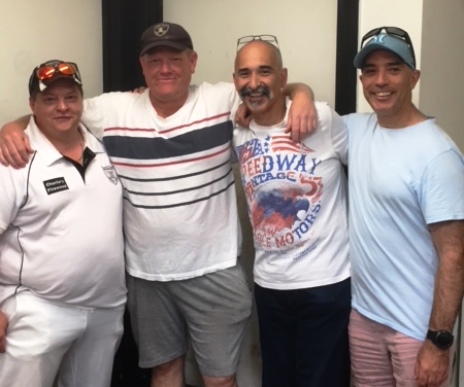 Dual Premiership captain and past coach Mark Gauci has joined an elite club at Moonee Valley – one of just five players to have brought up 300 games.
The Gauch reached the milestone against Jacana on the February 24/25 weekend, and ran through a guard of honor at our Ormond Park home ground as the First Eleven took to the field.

At left: Brothers in arms - four of Moonee Valley's 300-gamers: L-R Mark Gauci, Darren Nagle, Joe Ansaldo and John Talone.

Three of the other 300-gamers – Darren Nagle, John Talone and Joe Ansaldo – were part of the honor guard, while Ian Denny sent his congratulations.
Mark's glittering career has reaped more than 6500 runs and 250 wickets since he joined our club in 1998/99, and includes captaining the 2009/10 First Eleven Premiership and the 2014/15 Sixths flag.
He was our First Eleven captain for eight season from 2005/06, coached in the 2015/6 season and had a term as vice president of Moonee Valley.
Below: Our history and our future: Mark Gauci gets ready for his 300th game, sharing the changerooms with Moonee Valley's future - L-R 22yo Daniel Comande and teens Nigel Cowan and Anthony Cafari.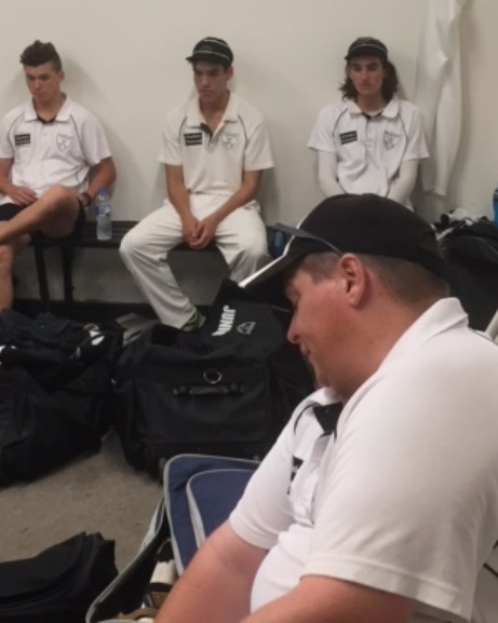 The honor call of this great clubman's achievements include:
6744 runs – third on the all-time list behind Ian Denny and Michael Harvey

258 wickets – 14th on the all-time list

10 centuries – the fourth-highest total at our club

High score of 155 – including 27 boundaries

35 games for Moonee Valley in Twenty20 competitions – equal with BenThomas

610 T20 runs – the most of any Valley player

Four times in Moonee Valley Team of the Year, including captain in 2010/11

Four times in our five Wisden Players of the Year, the first in 1999/00

Club Champion 2005/06 season

Three-time winner of the Moonee Valley Award – best player all other grades

Winner of Second Eleven batting award 2001/02 and 2002/03

Two-time winner of Fourth Eleven batting award

706 runs in 2015/16 season – the fifth-highest season tally in club history

Won both the Second Eleven Most Valuable Player award and the Thirds MVP in the same season – 2015/16

The accolades flowed long and fast for the Gauch and his contribution to our club - and it was probably fitting that the celebrations of his milestone were also the last official function in the Ormond Park clubrooms before they're pulled down and rebuilt in our $2 million redevelopment and expansion.
The new clubrooms are part of our future - and we're sure Mark Gauci will also be there as part of our bright new era.
*Thanks to Dean Jukic for the photographs.



February 26, 2018

charlie's firewood