Life Membership for our Mickster
by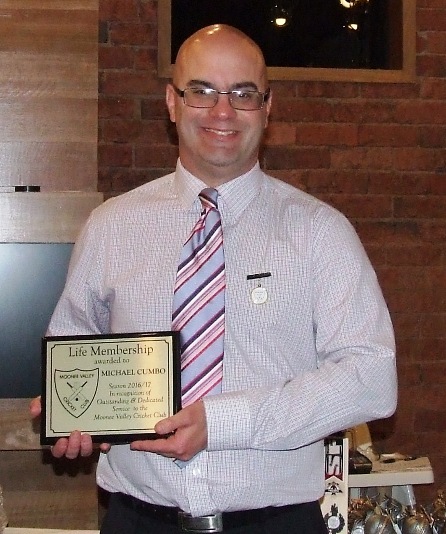 Our Mick takes a trick:

Life Membership for

Mickster

Moonee Valley's much-loved Michael "Mickster" Cumbo was rewarded with Life Membership at the MVCC annual presentation night on April 22.
Mickster had been counting down all year as he notched up the games leading up to the 200-match qualification, and he celebrated long and hard when he reached that milestone.
Mick is now on 201 games, and shows no sign of letting up on his love for cricket and for Moonee Valley.
His parents, Joe and Carol were on hand to see the honor bestowed on Mickster, who becomes our 26th Life Member.
At left: Michael Cumbo proudly wears his Life Member badge and holds the memento plaque celebrating his honor.
As fellow Life Member Jim Polonidis said in speaking to the honor, few have been as deserving of the honor.
Simon Thornton was awarded Moonee Valley's highest honor, the Lindsay Jones Award for Best Clubman. After joining our Club in 2009/10 "fresh off the boat" from Yorkshire, Simon was elected Vice President the following season.
He has since been tireless in promoting Moonee Valley "back home", and with key money-making activities such as running the bar and clothing shop and ensuring memberships are paid when they fall due.
Chanaka Silva was a clear winner of the Club Champion Award, while Liam Shaw was a runaway in the Moonee Valley Award - based on points for runs, wickets and catches in all grades other than the First Eleven.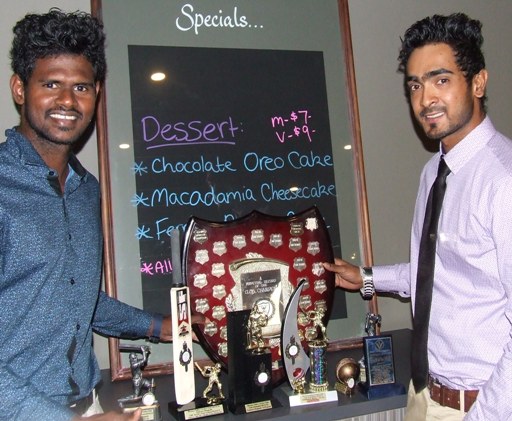 A surprise winner of the Bendigo Bank Most Improved Player Award was Jesse Felle, who took all before him this season.
The award is determined by the Coach. As Lou Raffaele pointed out, in his earlier days Jesse was quite a handful. But the maturity he has shown over the past couple of seasons has reaped its rewards as Jesse has established himself as a legitimate turf player with bat and ball, and a proven matchwinner moving up the grades.




At right: Their just desserts: Nadeera Thuppahi (left) and Chanaka Silva with their trophies. Chanaka was the Club Champion for 2016/17, following on from Tuffy the previous season.

***** To see more photos and details of the night, click on the link HERE








April 24, 2017

charlie's firewood