Leo's flushed with success
by Charlie Walker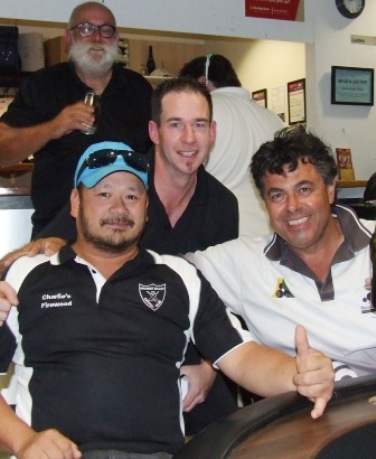 Leo's flushed with success on a

seaming deck
Anthony Leonardo turned out to be our King of the cards when Moonee Valley held its life members function and poker night on February 17.
Leo won through to the final table, and held off a determined effort from past player Mick Intagliata to claim the first prize.
The poker night is an annual event for our club, and is a major fundraiser for our budget.

At right: Our official card sharps - winner Anthony Leonardo (left) and runner-up Mick Intagliata (right) with organiser Kav, and with Michael Felle keeping a watchful eye for any missed aces.
About 40 of our cricketers, as well as friends, family and outside players, were part of the tournament, and the cards flowed thick and fast as we worked towards the final table.
Thanks to everyone for their efforts.

** For more photos from the night, click HERE


February 20, 2018

charlie's firewood