Jim Higgs visits Moonee Valley
by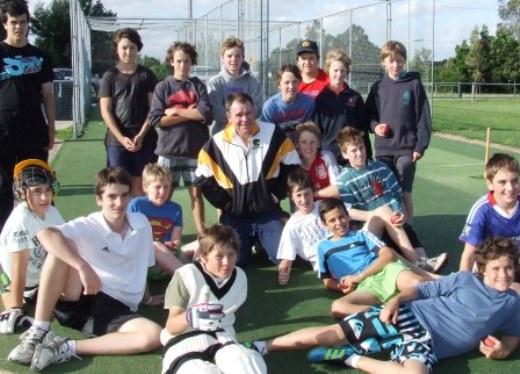 Jim Higgs puts a real spin on it for the Moonee Valley lads
Former Australian Test cricketer and past Test selector Jim Higgs attended Moonee Valley training on December 1 to offer some expert tuition and advice to our Under 14 lads.

Jim was at the session from 4.30pm until well after 6pm, when he was passing some extra tips on to the Under 14 coaching panel in the clubrooms.

Our juniors were all able to benefit from doing training drills with Jim and learning from his experience and advice.

Above: Our Under 14 players were keen to learn from former Test spinner Jim Higgs.

His attendance was arranged by Matt Hogg, whose sons Charlie and Archie play juniors at Moonee Valley.

A leg spin bowler, Jim Higgs played 22 Tests, taking 66 wickets at an average of 31.16.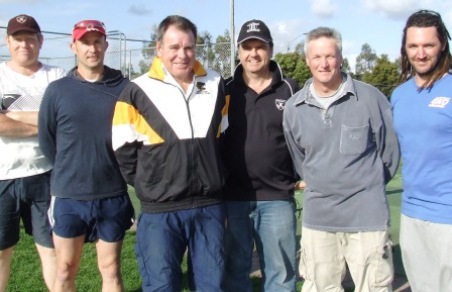 He made his Test debut against the West Indies in Port Au Spain in 1978, taking 4-91 from 25 overs. His first Test wicket was the champion West Indian opening batsman Desmond Haynes, who was also making his Test debut.

Jim Played his last Test for Australia against India at the MCG in 1981 - well before any of our Under 14s were born. Despite this, they were keen to take in every skerrick of advice from a Test legend.

Jim's best Test figures were 7-143 and he took nearly 400 first class wickets throughout his career.

Jim bowled Victoria to a Shield victory, became an Australian Test selector and taught a young Shane Warne how to bowl a flipper. And he visited Ormond Park.

Above: With our Under 14 coaching panel: L-R Darren Nagle, Matt Hogg, Jim Higgs, Ross Aitken, Brad D'Elton and Shannon Brooks.

1/12/11

More pictures and words - click HERE


December 7, 2011

charlie's firewood