It's a Grand Old Flag - and the Sixths brought it home
by

It's a Grand Old Flag - and we brought it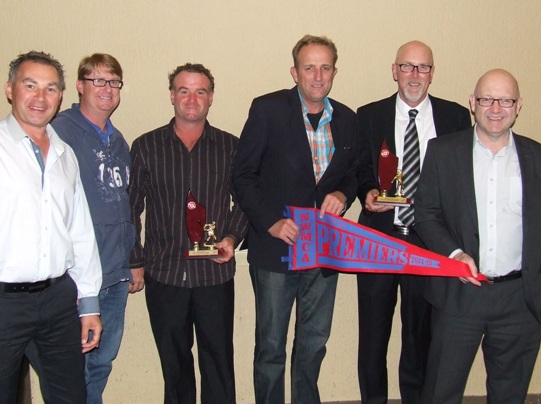 home to Moonee Valley!

Moonee Valley's Sixth Eleven capped off an unbeaten season when they won the Ralph Barron Shield grand final in the North West Metropolitan Cricket Association on March 14/15.

And six members of the victorious team were at the NWMCA presentation night on April 10 to collect it.

At right: (L-R) Dean Jukic, Dean Lawson, Sean O'Kane, Brett Curran, Kevin Gardiner and Paul Hobbs were at the function at Melrose Receptions, along with Club president Charlie Walker.

Moonee Valley's Sixths swept all before us for the season, and the domination didn't end with collecting the flag.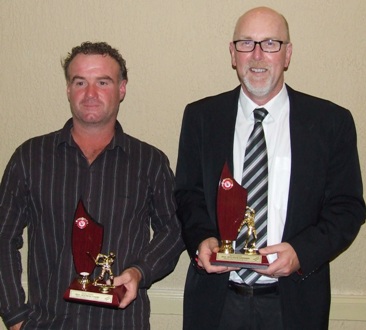 Kevin Gardiner won the grade bowling award and Sean O'Kane won the batting award.

At left: Batting maestro Sean O'Kane (far left) and bowling supremo Kevin Gardiner with their competition trophies.

And Charlie Walker also received a special presentation - the first of the night - for his work assisting the NWMCA Board in key areas such as the rules and bylaws.

While the Sixths swept all before them and the players got their reward and recognition at the Association presentation night, we had to dig deep and win the moments that mattered on the way to the flag.

There were a few tense moments across the March 14/15 Grand Final, but we prevailed over West Coburg, winning by 54 runs. Our 263 on Day 1, on the back of a magnificent 104 from Sean O'Kane and 59 from Paul Edwards, proved a bridge too far for West Coburg.

Magnificent bowling spells from Peter O'Kane - 25 overs on the trot for 2/85 and captain Mark Gauci - 21 overs in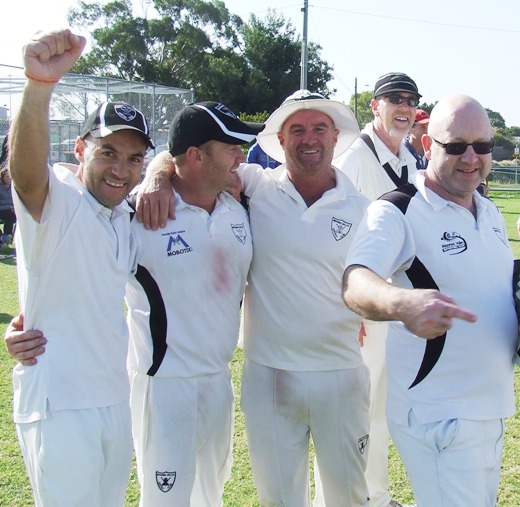 a row for 3/50 - put the choke hold on the opposition, then Sean O'Kane came in at the end with 4/18 to wrap up the Premiership.

It was a wonderful return for Brett Curran, Paul Hobbs and Dean Lawson among a group of parents who came together to Moonee Valley in 2006/07 to play, and have done everything the club has asked of them.

Along the way they've gathered in some other committed parents and players and over the nine years have been our most consistent team, missing finals only once in that time. Now they've got their reward, and well done to the Mighty Fighting Sixths. You deserve it!

Right: It's a Grand Old Flag - celebrating the Sixths Premiership are L-R Sam Carbone, Peter and Sean O'Kane, Kevin Gardiner and Paul Hobbs.

For more pictures and words, click HERE.

And for Brett Curran's words of wisdom for every game during the season, click HERE

April 12, 2015

charlie's firewood