Honors for club legends at Presentation Night
by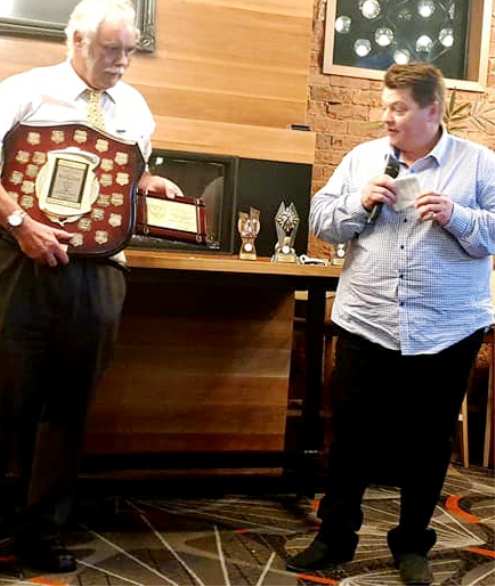 Honors for Club legends at Presentation Night

Two of Moonee Valley's finest clubmen received special honors at our Presentation Night on April 13.
Three-hundred-gamer Mark Gauci - third on our all-time games list - received the only major honor which had eluded him up until now - our most prestigious trophy, the Lindsay Jones Award for best clubman.
At left: Mark Gauci responds to the announcement of his Lindsay Jones Award, while President Charlie Walker holds his plaque and the perpetual trophy.
And Sean O'Kane, who received Life Membership last year, was stunned and surprised to hear it announced that the Moonee Ponds Award - for best player in all grades other than the Firsts - had been renamed in his honor.
Fittingly, close mate Mark Gauci, who has played in two premierships with Sean - in the Firsts and the Sixths - was the inaugural winner of the Sean O'Kane Award.
And Sean's other closest mate at Moonee Valley, Dean Jukic, had the honor of announcing the renaming of the award and the inaugural winner, and had the crowd of more than 70 on the edge of their seats as he delivered an excellent and often-humorous speech, as only Deano can do it.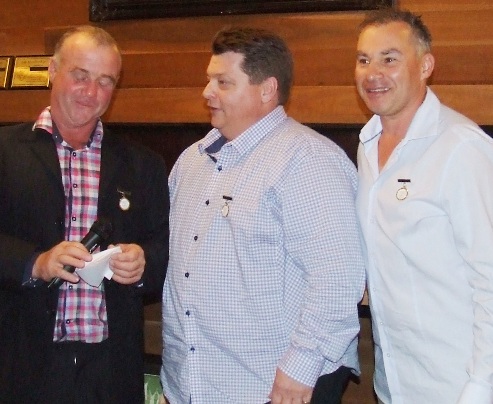 Jack Newman won the Club Champion Award.
Young star Krish Kanchan, who went from Under 14s-eligible to six games in our Firsts, was a runaway winner of the Most Improved Award.
At right: Three great mates together: L-R Sean O'Kane, Mark Gauci and Dean Jukic are honored.
Geoff McKeown won the Wicketkeeper of the Year.
And the Moonee Valley Cricket Club inducted its 30th and 31st Life Members - Ben Thomas and Peter Smith.
Ben and Postcode were joined at the front of the venue by the other Life Members present - Darren Nagle, Jim Polonidis, Danny Terzini, Matt Thomas, Sean O'Kane, Mark Gauci, Dean Jukic, Michael Cumbo, Jim McKenzie, Charlie Walker and Ian Denny.
Thanks to our long-time sponsors the Moonee Ponds Club, which has been supporting our cricket club for well over a decade for again providing an excellent venue and a great meal.
**See here for more words and photos from Presentation Night: Click HERE

April 15, 2019

charlie's firewood