From boiled lollies to Chookolates - our Black girls break through
by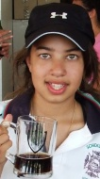 Breakthrough win by our Women's Black - our team gets the points

It was a long time coming, but our Women's Black team scored its first win with an emphatic victory over Edinburgh on Sunday, February 1.

Watched by a crowd estimated at more than 50, the girls did us - and themselves - proud, taking the initiative from the first over and never letting it go.

While players from our inaugural women's team in 2007/08 are this year spread across both our Black and White teams, the nucleus of the group that were the pioneers in getting women's cricket off the ground at Moonee Valley stayed in the Blacks.

We're all so proud of them! Well done girls!

Shown here are the winners: L-R: Jenny O'Brien, Natalie Waites, Ros Brelis, Sam Lawson, Tien Ha,
Jacinta de Niese, Amelia Radford, Kim Johnston, Victoria Thorneycroft, Belinda Tankard and Adele Walker.


Our girls battled hard through their inaugural season, never quite breaking through for a win but still winning the Victorian Women's Cricket Association Spirit of Cricket Award for the way they played the game.

With the influx of new players in 2008/09, the White team has notched up a number of wins - including the two derbies between Moonee Valley White and Moonee Valley Black.

But this weekend it was time for some of our "originals" to get the spotlight, backed up by two of our young guns from the junior ranks, Amelia Radford and Jacinta de Niese. Both these youngsters represented our region in the Victorian Under 14 Girls championships in January.

A 53-run opening partnership between Kim Johnston and Amelia Radford set us on the road to victory, while 18 from Natalie Waites and 28 from Jacinta de Niese provided the middle-order backbone to get our total to 9/169 off the 40 overs.

Captain Tien Ha then had Edinburgh reeling at 2/4 when she broke through with her bowling, and we never looked back.

Jacinta, already one of the best young wicketkeepers going around, had a day to remember - with four catches and a stumping. Jacinta is pictured here with her Player of the Match trophy.

Kim Johnston took three wickets and Natalie Waites two, with singles to Amelia Radford and Sam Lawson as we bundled Edinburgh out for 80 in just 24 overs.

The catching was phenomenal - both from Jacinta and the players in the field, and clearly the desperation showed the girls weren't going to let this one slip, and took everything that came their way.

The celebrations were wonderful afterwards - and the girls deserved every minute of it.

Club president Charlie Walker said all credit must go to players such as Jenny O'Brien and Kim Johnston, who were instrumental in following through the vision and bringing women's cricket to Moonee Valley.

Commiserations to Sally Wilson, who tore her hamstring in the previous game and missed out on playing in the win. But she was still part of it, taking on the scorer's duties for the match.

Thanks also to the big crowd estimated at more than 50 - our players from the Thirds on the adjoining turf oval, their St Mary's counterparts, and husbands, children and other Moonee Valley supporters alerted to the chance of a breakthrough all lined the boundary and cheered our girls on.

Coach Tony Gleeson after the match paid tribute to the perserverance of the Black team, never giving up and sticking determinedly to the team goals set - batting in partnerships, being positive in the field and putting pressure on with runouts - we nearly got one again!

Girls: We're proud of you!




The winning team: L-R: Back - Belinda Tankard, Jenny O'Brien, Sam Lawson, Adele Walker, Victoria Thorneycroft, Ros Brelis, Kim Johnston and Natalie Waites. Front - Jacinta de Niese, captain Tien Ha and Amelia Radford.
Pictures: DAVE WILSON (Ninths player)

February 2, 2009

charlie's firewood