First Eleven Premiership 2020
by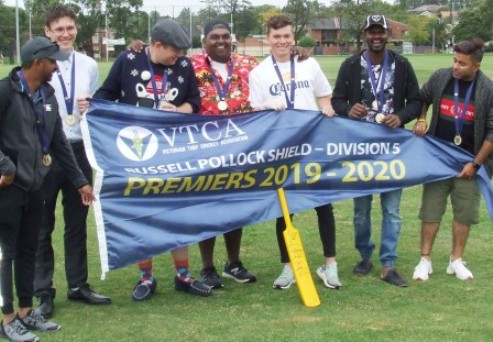 It might have been unconventional and not neccesarily decided on the field, but the 2019/20 Russell Pollock Shield VTCA Premiership has been won by Moonee Valley.
At right: We can look back and laugh now, but it was of great concern at the time. Here are the seven ducks from our Grand Final win - from left: Sameera Vithana, Jack Newman, Sam Walker, Channa DeSilva, Daniel Comande, Nadeera Thuppahi and Sumit Anand.
Any further play in the four-day game was called off after Day 2, with Moonee Valley hanging in grimly.
In an incredible batting card for our 8/78, seven players made ducks, including a hattrick, and only Anthony Cafari and Joshua Gorry scored runs off the bat.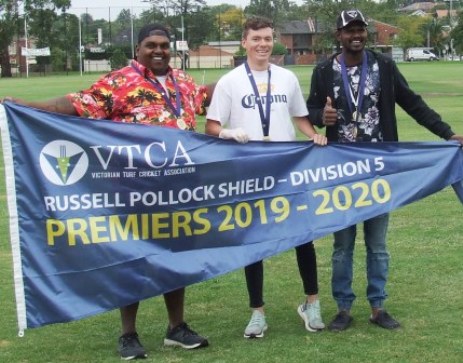 Joshua and Caf knew that we had to finish Day 2 with wickets in hand because of the looming threat of the coronavirus pandemic, and that's the way they batted.
Caf soaked up more than 150 balls for his 37, while Joshua withstood 206 in his marathon 34not out.
It was enough to get us over the line with an incomplete first innings when the VTCA heeded the call from Cricket Australia and Cricket Victoria to call off all further play and games.
At left: Not a sight you'll often see in a winning Grand Final team: Channa DeSilva, Daniel Comande and Nadeera Thuppahi were in a hat-trick on the way to a 5/1 scorecard.
It wasn't pretty, but it was gutsy, and it delivered Moonee Valley our 13th First Eleven premiership and the first since 2009/10.
Congratations to Sunbury for their effort in the Grand Final, when they were well in control for large parts of the game. But we've all copped the bad luck in rain-shortened matches, and Moonee Valley did enough to be still in the game when it mattered at the end.
*****Here's the full match report.



March 22, 2020

charlie's firewood