Fifths Premiership 2019/20
by
The Moonee Valley Fifths had to put a week of uncertainty in the background to focus on the game at hand.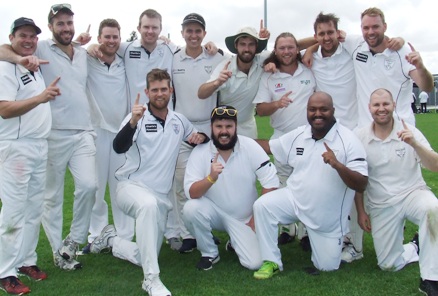 Who were we playing? Where were we playing? We'd finished the season equal on points on top of the ladder but a smidgin of percentage behind Donnybrook, and so were due to travel there for the big match.
At right: Immediately after the win: Our Fifths! L-R. Back - Ryan Chirgwin, Liam Farrell, Sam Gunther, Justin Trowell, Jesse Nankivell-Sandor, Cassidy Box, Sam Kater, Paddy Shelton, Liam. Shaw. Front - Jarrad Sims, Shane Chalmers, Manu Poulose and Dominic Rettino.
But Donnybrook got caught out playing a smoky in the semi final and were rubbed out, so on the Thursday before the big game we learned that we had been promoted to a home grand final against fifth-placed Northern Lions.
Just two days, but we snapped into focus to the task of winning a flag.
The Shiners had put together a solid but not spectacular season but worked our way into form with a strong finals campaign.
We had 15 players qualified for the big match, but managed to avoid the heartbreak of telling two players they would miss out when family commitments intervened.
Now to the big day, with co-captains Dominic Rettino and Liam Shaw proudly leading us onto the Ormond Park east oval field, which was well grassed. The weather was balmy, with just a slight breeze.
Northern Lions won the toss – the only time for the whole day they bested us – and elected to bat.
We opened the bowling with our two wicket-taking trumps, competition leader Cassidy Box and swing king Shane Chalmers. It was tight and it was tough.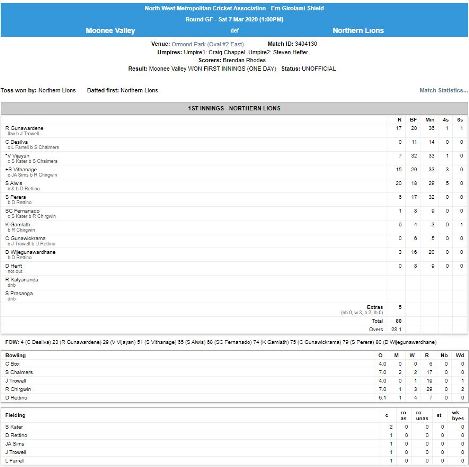 Cassidy saw a pearler of a ball snicked through slips for four, but the aggressive shots were non-existent.
One of the openers used up 11 balls for a duck, and when the No. 3 bat soaked up 32 deliveries – 15% of a 35-over innings – for just seven runs, it was obvious Northern Lions was struggling.
Justin Trowell came on and promptly picked up their best opener with an LBW, and the tight bowling continued as Shano bowled out, taking a miserly 2/17 off his seven overs and constantly beating the bat with his hoop and swing.
Ryan Chirgwin maintained the pressure with sharp and accurate bowling, and 3/29 off seven tight overs was a fitting reward.
But the bowling spoils went to co-captain Dom, who cleaned up the middle and lower order with 4/7 off 6.1 overs. He was tight, he was accurate and he was mean, and it all added up to oblivion for the Northern Lions batsmen.
A caught-and-bowled got rid of their top scorer for the innings on 20. Our catching and ground fielding was on song, with Sam Kater taking two good grabs behind the stumps and the rest of the field doing their job.
We had an early tea break, with Northern Lions all out for 80 off 28.1 overs. Such was our dominance, we didn't get a chance to bring back our leading wicket-taker Cassidy Box after his initial four-over spell.
The equation looked simple enough on paper – 35 overs to get 81 runs. But we all know that Grand Finals are won on the field, not on paper, and strange things can happen in our sport of cricket.
Our opening bats, Liam Shaw and Manu Poulose strolled to the crease – at least looking confident, even if there was a hint of nerves.
If there were any nerves, they didn't last long.
Manu cracked 18 runs off the first two overs, dispatching the ball to the square boundary on both side of the wicket. He was clearly frustrated when he holed out on 30, but needed have been – he'd done his job. Four fours and a six, just 23 balls, and a 46-run partnership – the job was almost done.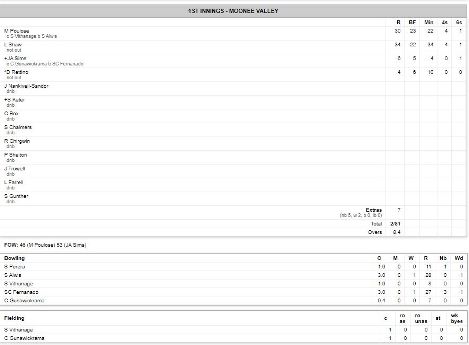 Jarrad Sims cracked six and out as Liam Shaw ramped up the pace at his end, and we were 2/53.

The co-captains were together in the middle. Liam decided it was time to finish the job and hit out, and a two to take him to 34no saw the scoreboard tick over to a win. Dom Rettino only had the chance to score four, such as Liam's dominance at the end.

It took just 8.1 overs to run down the target, and the Premiership belonged to the Shiners.

Our team: Liam Shaw, Dominic Rettino, Samuel Gunther, Jesse Nankivell-Sandor, Cassidy Box, Shane Chalmers, Sam Kater, Justin Trowell, Manu Poulose, Ryan Chirgwin, Liam Farrell, Paddy Shelton, Jarrad Sims.

Click here for a PDF version of the scorecard.

March 10, 2020

charlie's firewood