Double century up for Gauch
by

---
200 up - Gauch reaches the magical Mark

One of Moonee Valley Cricket Club's true leaders, Mark Gauci, joined rarified company when he played his 200th Club game on February 9.
Only 16 other players in the 42-year history of our Club have reached the milestone before him, and four of them were in the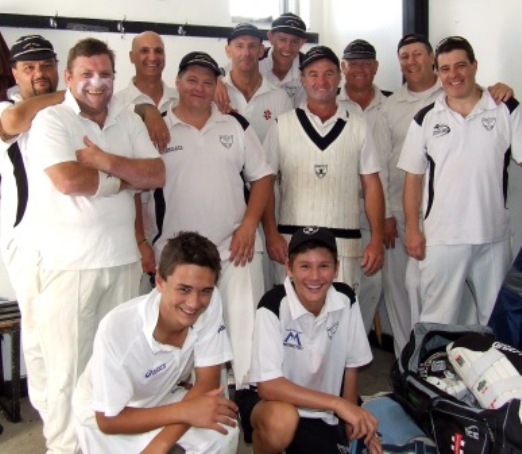 Fifth Eleven with him when he played the landmark match - which Moonee Valley won easily to hold our spot on the top of the Mercantile Sunday one-day ladder.
The milestone ensures that Mark will be inducted as a Life Member at the end of this season - and to see him join that elite company were no fewer than 12 Life Members either playing or watching his milestone game during the course of the afternoon.
Gauch ensured it was a milestone match by hitting a whirlwind 45 - one single, one two and the rest in fours and sixes - before he was curiously adjudged LBW to a shot that had almost the full face of the bat. Fittingly, he took a catch to snare the last wicket and finish off the game.
Mark Gauci is a true leader of our Club, and captained our most recent First Eleven premiership, in 2009/10. He captained our Firsts for eight seasons before stepping down as skipper at the start of 2013/14. He's held his place in the Ones though, but played Fifths this round to help manage a niggling hamstring injury.
He told of things to come almost 10 years ago when asked about his future: "I love the game and the club I play for. I will play 200 games or more - trust me!" How true!
Mark has made more than 4000 runs, is approaching 150 wickets and was our first player to hit a ton in each of our top four grades.
He's a three-time Moonee Valley Wisden Cricketer of the Year, and in 2010/11 was captain of our Moonee Valley Team of the Year.
Above: The victorious team to bring home the bacon in Mark Gauci's 200th game. L-R: Sandro Capocchi, James Holt, Lou Raffaele, Mark Gauci, Michael Harvey, Craig Pridham, Sean O'Kane, Darren Nagle, Ian Denny and Daniel Phillips. Front: Luke Brock and Jack Newman.
To see a photo of Mark celebrating with clubmates in the rooms at the end of the match, click HERE.

---
February 10, 2014

charlie's firewood