Christmas cheer with the Valley
by

Christmas Cheer - led by the Valley Fourths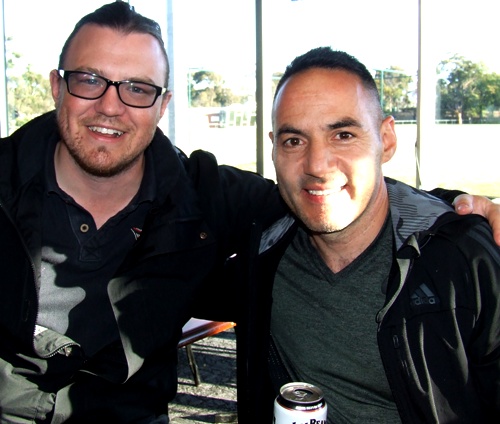 Our Fourth Eleven was front and centre on the main stage at the Moonee Valley Cricket Club Christmas party - and didn't let us down when they triumphed in a close match.
The crowd of fellow players, partners, supporters and family were on the edge of their seats for much of the December 18 game but our team triumphed by three runs, on the back of a century from stalwart Sam Carbone.
Sam brought up his third Moonee Valley ton just a week after his 2013/14 Premiership team-mate Mark "Junior" Cini scored his maiden century.
Left: Century-maker Sam Carbone (right) celebrated his milestone - and the Christmas break - with Mick Bannister.
Our Christmas party thanks goes to the key organisers, including the evergreen Dan Terzini, Dean Jukic and Agatha Soccio, Pat and Nick Taylor, Mick Cumbo, Simon Thornton and Peter Golding.
Peter Golding won the main raffle prize of $500 cash, and promptly put half of it back to the members.
Special thanks to Dan Terzini for again organising the pasta and chicken for the excellent meal, and to Dean and Agatha for the salads.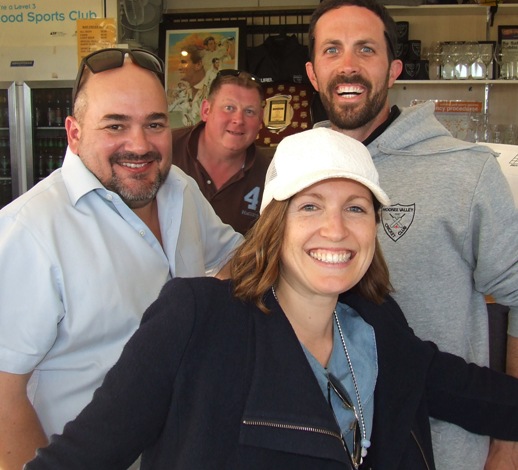 Festive! (From left) James Harris, Simon Thornton and Michael Ozbun with girlfriend Lisa Morgan.
***For a link to more photos, click HERE.

December 19, 2016

charlie's firewood