Charlie Walker 50th birthday bash
by
CHARLIE'S 50th BIRTHDAY BASH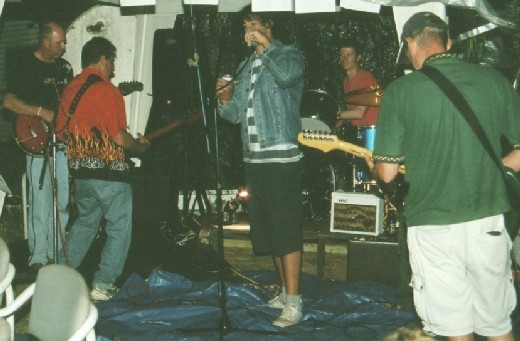 The Moonee Valley band: L-R: Kevin Gardiner, Phill King, Tom King, Dan Ayers and Chris Ayers.

Junior co-ordinator Charlie Walker held his 50th birthday celebrations at Lancefield on January 28, 2006 - about six weeks after he reached the actual milestone.

December was too busy as a social schedule, with Cricket Club functions and other clashes, so wife Adele decreed that December 11 fell on January 28 this year.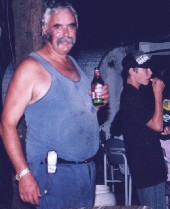 A big turn-up from Moonee Valley Cricket Club rolled up to the bash, and many of the stayers pitched tents or stayed in the "Tin Bunkhouse" shed.

The stayers were led by Charlie and senior coach Tony Gleeson - although observers suggested they had a few winks on the couch between songs being belted out on the cassette machine.
Pictured right is birthday boy Charlie Walker, and young senior player Joel Costigan.

Earlier in the night a band - of mainly MVCC players - took to the makeshift stage - which was set on part of the stage which used to grace the old De Marco's Hotel in Essendon when 70s and 80s band Bluestone was at its peak.

Band members included Phill King, Chris and Daniel Ayers and Kevin Gardiner, with Tom King joining in occasionally to add to the vocals.

The overnighters included one-day players Joe Hebaiter and Dave Graetz - and Joe had a mishap during a visit to the dam on the Sunday when Dave thought he needed a dip - fully clothed.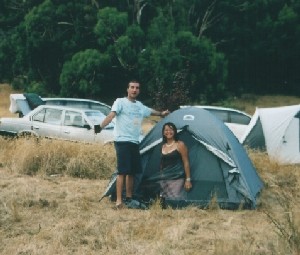 Jim Polonidis and Tien took advantage of the padddock to camp out for the night.

The younger senior group of players was also well represented, led by Murray and Nigel Walker, and they took up residence in the shed for the night.

Several junior players were also there with their parents for part of the evening.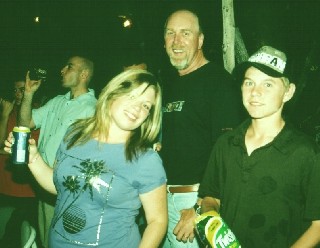 Enjoying themselves on the night were former junior player Melissa Intagliata, with Kevin Gardiner and Joel Costigan. John Talone's in the background.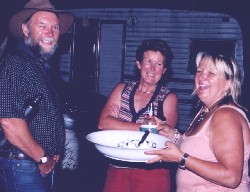 Enjoying the food and drink were (L-R) Peter Fenaughty, Jann McVicker and Adele Walker.



For more pictures from the party, click on this link.

May 22, 2006

charlie's firewood