Barooga 2019 - Valley won the tournament
by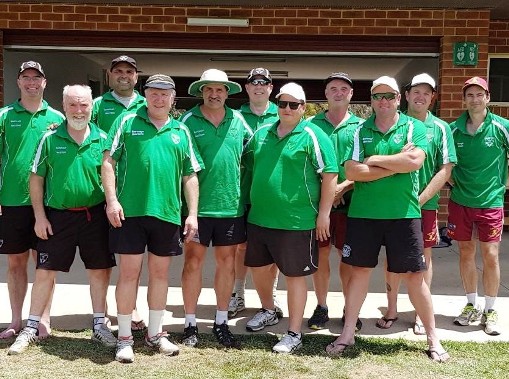 The Moonee Valley Cricket Club has won the Barooga Over 35s tournament, taking out the trophy with three straight wins.
We've come close before on our previous five trips to the tournament, but strong batting and bowling displays ensured we were well in control across each of the matches, played in blistering heat which rose into the 40s. The tournament ran from January 14 to 17.

At right: Here's the Round 1 team which set us on our winning ways. L-R: Michael Cumbo, Allan Cumming, Amit Chaudhary, Peter Golding, Tony Gleeson, Daniel Phillips, Mark Gauci, Sean O'Kane, Adam Chapple, Travis Gow and Justin Maley.
Our three matches were on excellent turf wickets at the Barooga Sporting Club – on the NSW side of the Murray to Cobram.
Our team comprised current Moonee Valley players Daniel Phillips, Allan Cumming, Mark Gauci, Peter Golding, Michael Cumbo, Sean O'Kane and Tony Gleeson, past players Adam Chapple, Glen Courts and Amit Chaudhary, and Barooga players Travis Gow, Matt Dimble and Justin Maley.
We chased down Narre North's 8/218 in the first game, on the back of Sean O'Kane's 5/33 – his third five-wicket haul for the Valley.
Some lusty hitting at the end of the innings by Sean on Day 2 enabled us to overhaul Yarrawonga-Mulwala's 223 with seven balls to spare. Sean clubbed 30 not out off 12 balls – and then Mark Gauci came to the crease and smashed his first ball for six to win the match.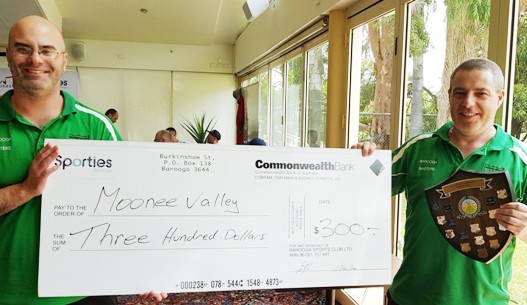 Day 3 saw us chase down Castle Hill's 135 with five overs to spare.
Our batting was strong throughout the tournament, led by Allan Cumming's 66 runs at an average of 66, Adam Chapple's 69 runs (34.5), Tony Gleeson's 61 (30.5), Daniel Phillips' 58 (29) and Michael Cumbo's excellent 51 runs @ 25.5.
We'll be back to defend our title in 2020 – team leaders Daniel Phillips and Mark Gauci handed back the $300 prizemoney as the deposit for next year's entry.

Above right: Mickster's trying to work out how to spend the winnings! L-R Michael Cumbo and Daniel Phillips with the prize and trophy.
Again thanks to our Life Member Sean O'Kane for convincing Moonee Valley to enter the tournament six years ago, and for organising some of his home-town teammates to play for the Valley to strengthen our numbers.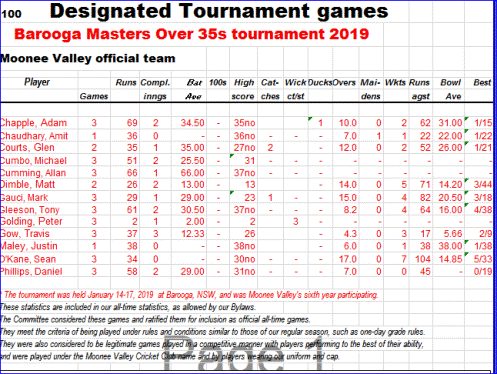 January 17, 2019

charlie's firewood