2011/12 MVP awards
by Moonee Valley Cricket Club

Our MVP night - and our Fieldlows
A merry band of Moonee Valley players gathered in the clubrooms on the night of Saturday, March 10 for our Most Valuable Player awards night.
And our Fieldlow fielding award vote count was held on Thursday, March 15.
The MVP night occasion also saw the presentation of many of our milestone trophies - games milestones, wickets, runs (by the thousand), centuries and five-wicket hauls.
Many thanks to life member Joe Ansaldo for his tremendous job at catering the finger food for the night.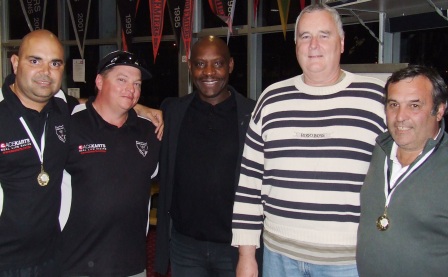 Pictured here above are L-R: Firsts MVP Amit Chaudhary and captain Mark Gauci; MVCC coach Vic Hodge, and Sevenths captain Richard Cooney and MVP Bob Sciacchitano.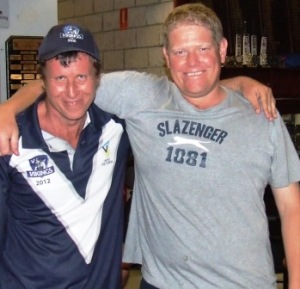 Pictured at left are Fieldlow fielding award winners: Shaun Rayment (left) from the Sevenths, and Darren Nagle from the Fourths.
The voting was close and tense for the Fieldlows, due to the new 3-2-1 system introduced for this season.
The winners were: Firsts Craig Pridham; Seconds Sam O'Brien; Thirds Michael Klomp; Fourths Darren Nagle (pictured here); Sixths Jackson Clarke and Ashley Krollig; Sevenths Shaun Rayment (also pictured); and Eighths Matthew Esmore

Above: Clare Ardern with her 50-game
recognition trophy - with Bede Gannon's
trophy also wanting to get into the picture.

Above: Ihtisham Uddin with his trophy
for his five-wicket bag, from his first game
back in Australia.

Above: Nasir Ahmed received trophies
for the two five-wicket hauls he nailed in
his debut season for Moonee

Above: Two tons, two bats -
that's Trent Milne for his excellent
season.
March 10, 2012

charlie's firewood