2007 - Jim McKenzie's 200th game
by
Welcome to the Club: Stynesy reaches his 200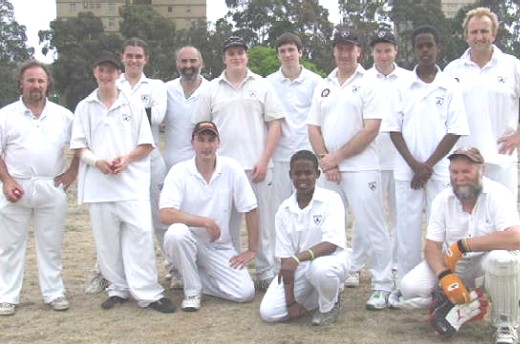 The team for Jim McKenzie's 200th, at our Debney Park ground. L-R: Back - Paul Comino, Jesse Anticevic, Jesse Nankivell-Sandor, Joe Ansaldo, Nigel Walker, Tom Aitken, Alan Harry, Andrew Payton, Ali Ahmed, Brett Curran. Front - Jim McKenzie, Jordan Ahmed, Peter Fenaughty.

One of the Valley's most popular players, Jim McKenzie has joined the immortals at Moonee Valley, becoming just the 14th player in our Club's history to play 200 games.

For a long while it looked like Stynesy wouldn't get to the mark – which brings automatic Life Membership – because he retired at the start of this decade due to family circumstances.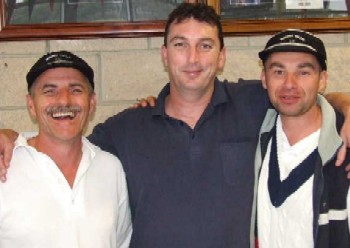 Jim was only available every second week, so he looked stranded on 168 games as he couldn't play our two-day fixtures.

(At right is L-R Phill King 50 games, Jim McKenzie 200, Dean Jukic 100).

But the advent of our one-day teams in 2003/04 enabled Jim to make a comeback, playing every second game. Coming from the eastern suburbs for training wasn't feasible, so with Jim's history and ability we were more than happy to just see him on game day, knowing he was looking after himself.

So it's taken Jim's fifth comeback season to bring up the last 32 games to reach the milestone – and a richly deserved one. Since his comeback, Jim's also added to his 292 career wickets and has gone well past 300.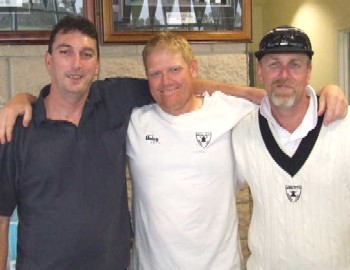 Jim's was one of four player milestones slotted for the November 3 & 4 weekend. As well as his 200th, Dean Jukic brought up his 100th game in the Fourths, along with Phill King's 50th in the Fifths. Dino Sapuppo was also scheduled to reach his 50th the next day in the Thirds Sunday game, but the celebrations were put off for a week as the day was washed out.

Three club stalwarts at right - Jim McKenzie, Darren Nagle and Kevin Gardiner.

We had a mix of old and new playing with Jim in his 200th game, at Debney Park on November 3. Unfortunately we couldn't get across the line with a win for Stynesy, but he made his own contribution, with five tight overs, 17 runs off the bat, two catches and a runout.

It wasn't for lack of effort on Jim's part.

Jim played the match in our Eighths, in the Moreland Moonee Valley Cricket Association's One Day Division 2.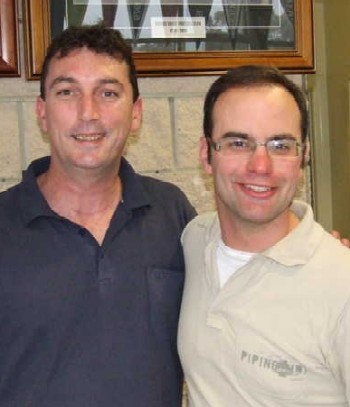 The squad we assembled for the match was a mix of age and experience, and youth and exuberance.

Jim's team-mates for the game were Paul Comino (captain), Tom Aitken, Jesse Anticevic, Jesse Nankivell-Sandor, Nigel Walker, Joe Ansaldo, Brett Curran, Alan Harry, Peter Fenaughty and Andrew Payton. Two of our new Under 16s, brothers Ali and Jordan Ahmed, also played as 12th and 13th man, and did some fielding.

At right are two of our most popular players - Jim McKenzie (left) with Mick Cumbo, who hit his maiden 50 in the Fourths.

The experience was provided by Paul Comino, Joe Ansaldo, Brett Curran, Alan Harry and Peter Fenaughty, while there was plenty of promise and youth with the rest of the team.

Brett and Alan came to the team courtesy of the Sixths, which had been given a walkover, while Ninth Eleven skipper Paul Comino was available as the NWCA one-day grades don't play a fixture on the Melbourne Cup lead-up weekend.

Andrew Payton is Moonee Valley's international cricketer, representing Australia at the Special Olympics cricket tournament in India last season.

Tom Aitken and Jesse Anticevic played junior cricket at other clubs before deciding Moonee Valley was their home – with Tom in only his second game for the Club.

And Nigel Walker and Jesse Nankivell-Sandor came through the junior ranks at Moonee Valley, and have a big future ahead of them. Jesse was just off a plane from England, and Nigel was in his first game of the season after a training injury.

8/11/07

Click here for more pictures from Jim's 200th celebrations

November 9, 2007

charlie's firewood