2006 - Thirds captain Dino ties the knot
by

Dino and Flavia tie the knot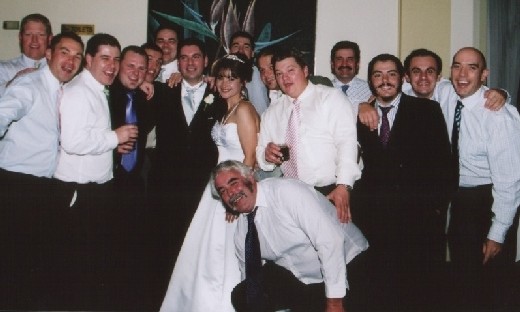 Celebrating the occasion with Dino and Flavia are players (from left) Darren Nagle, Dean Jukic, Daniel Phillips, Glen Courts, Jim Polonidis, Dale Hadfield, Matt Gauci, Sandro Capocchi, Mark Gauci, Tony Gleeson, Dan Terzini, Mark Cini and John Talone, with Charlie Walker at front.
Moonee Valley Thirds captain Dino Sapuppo married Flavia Spalato on May 27, and more than a team of Club colleagues was in attendance to help the couple celebrate the happy occasion.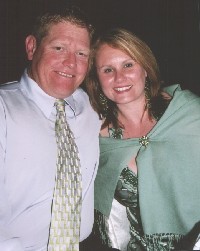 Dino generously waited until the end of the season, and the Thirds' finals campaign, before he devoted his Saturday to an occasion other than cricket.

He's a key member of Moonee Valley after joining the Club at the start of the 2003/04 season, and has already served on the committee and taken on captaincy duties.

At right is Club president Darren Nagle and partner Kim Simmons.

And Flavia has been a regular around the Club at functions after catching the Keilor Village apothecary's eye.

The wedding was held at St Monica's Church in Moonee Ponds, followed by a reception at the Ultima Function Centre in Keilor.

There were no whites to be seen as a fine team of cricketers from Moonee Valley – and partners – turned out to help celebrate.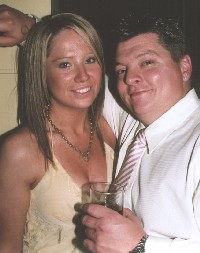 Had the Moonee Valley contingent taken to the field of play, it would have given just about any team a run for its money – and with substitutes in hand.

There was a strong showing of regular players from the first three Elevens, and we batted all the way down to the Sevenths.

At right is Firsts captain Mark Gauci and Megan Walker.

Our playing list comprised president Darren Nagle, chairman of selectors Sandro Capocchi, coach Tony Gleeson, First Eleven captain Mark Gauci, Danny Terzini, Daniel Phillips, Jim Polonidis, John Talone, Mark Cini, Matt Gauci, Dean Jukic, Dale Hadfield, Glen Courts and Charlie Walker – as well as Dino!

A fine list – a plethora of openers, a strong middle order, some wicketkeeping strength, a steady bowling attack and some fine drinks waiters. The team did Moonee Valley proud – but no prouder than we were of Dino and Flavia.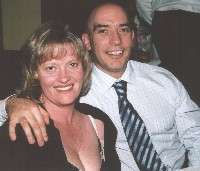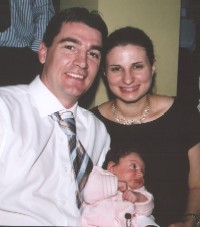 It was almost like Brownlow night, as players turned up with their partners "done up to the nines".

As you'll see from the photos here, Moonee Valley can give the AFL clubs a run for their money when it comes to wives and partners!
At right above is Jodie and John Talone.


At left above is Matt and Anna Gauci, with baby Siennea.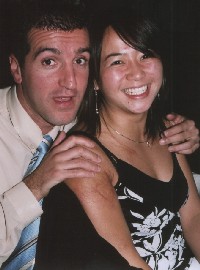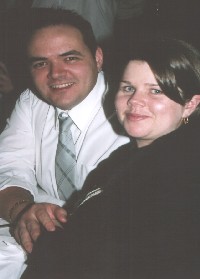 At left is Dale and Sonia Hadfield.






At right is Jim Polonidis and partner Tien Ha.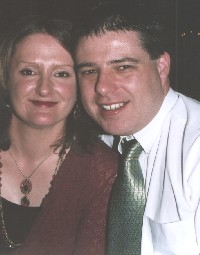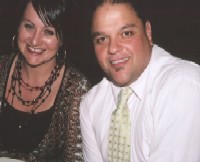 At right is Leanne and Daniel Phillips.





At left is Tammy and Sandro Capocchi.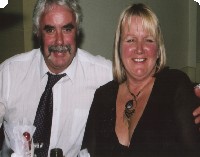 At left is Charlie and Adele Walker.






**** For another photo and report, go to our News pages.

June 21, 2006

charlie's firewood