2003/04 Under 16 Black team
by
Under 16 Black, 2003/04
In the 2003/04 season, for the first time, Moonee Valley Cricket Club had enough players to field two Under 16 sides.
The Under 16 White team, coached by Steve Rawlinson, played in C Grade, and the Under 16 Blacks under Charlie Walker were in D Grade.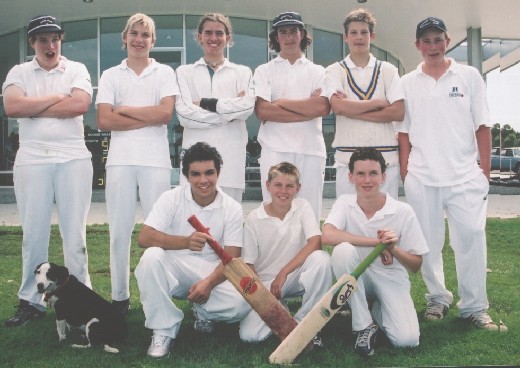 Moonee Valley Under 16 Black

L-R: Back - Co-captain Nigel Walker, Liam Brown, Jesse Nankivell-Sandor, co-captain Tom King, Matt Cheligoy, Seamus Fenaughty.

Front: Team mascot Patch, Nick Wasif, Joel Costigan, Morgan Cumming.
---
July 12, 2005

charlie's firewood