A good win on our Barooga pre-season trip
by
A good win on our Barooga Pre-season trip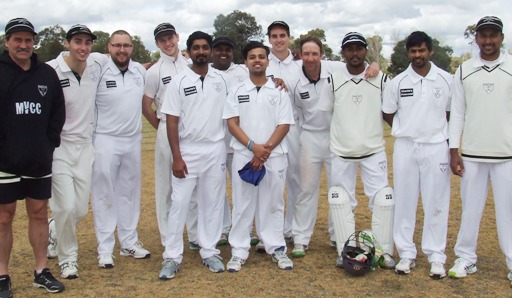 Above: Our Barooga practice match winners: L-R Coach Tony Gleeson, Stephen Esmore, Nick Brelis, Jack Newman, Muhammed Ashraf, Channa DeSilva, Abhishek Mehta, Anthony Cafari, Ben Thomas, Suraj Weerasinghe, Sameera Vithana and Shiwantha Kumara.

Moonee Valley ventured to Barooga on September 21 for a pre-season practice match on turf, and came up trumps.
Playing against the Barooga Cricket Club, we posted 172 - losing our last wicket on the last ball of the 45th and final over - and in reply got them all out for 118 in the 30th over.
Barooga has two excellent turf grounds which are regularly used pre-season by the NSW Sheffield Shield team and by State rep junior teams, so we thank Barooga CC and their President Wes Sutton for fitting us in.
It's the third time we've had a pre-season game in Barooga over the past few years, and following discussions post-game we're close to locking it in with Barooga CC as an annual event.
Moonee Valley has also entered the Barooga Masters over 35s tournament in January for the past six years.
Thanks also to the "link" between the two Clubs - Moonee Valley Life Member and Premiership player Sean O'Kane has been instrumental in developing the relationship with his home-town club.
Moonee Valley fielded a strong 11 for the match, with about six other players and supporters making the journey to the NSW border town for the weekend away.
The game gave us a chance to look at some new players under match conditions, and it was a good pointer to the season.
Sri Lankan international player Suraj Weerasinghe only got off the plane mid-week, but showed his class with 26 runs and an excellent game behind the stumps, making three stumpings and taking a top catch.
Recruit Sameera Vithana, previously with Jacana, opened the batting aggressively for 35 runs.
Our other Sri Lankan international Shiwantha Kumara, in his second season, hit a towering six before being beaten by a top ball. He took 1/3 off four overs, and the Barooga batsmen said he was turning it sideways.
New recruit Abhishek Mehta is a livewire between the wickets and made 22 excellent runs, and backed up with 2/6 from five overs. Barooga's wise heads on the boundary remarked on his excellent footwork and predicted a big season from him.
And our other recruit Muhammed Ashraf, who arrived from Pakistan in June on a study visa, made nine runs and took 2/29 - and was on a hat-trick.

September 23, 2019

charlie's firewood